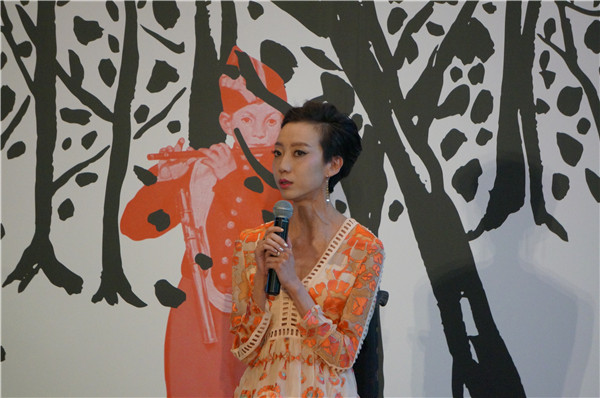 Chinese dancer and choreographer Liu Yan. [Photo by Ruan Fan/chinadaily.com.cn]
Five Chinese celebrities were invited to be patrons for this year's festival: dancer and choreographer Liu Yan, stylist Guo Pei, plastic artist Ding Yi, Chinese DJ Zhang Youdai, and comic book artist Golo.
"I like Paris-New York-Paris. It's a ballet dance that amazingly mixes three contemporary dance episodes together. I also love the Anatole's Little Saucepan drama. It's a play that a three-year-old child could appreciate. It expresses the profound idea that we should learn to make use of our shortcomings and turn them into our strengths," said Liu.
Liu said the French culture is quite inclusive and cares deeply about people's well being. A spirit she deeply appreciates.
"I was invited to perform in Le Fil Rouge, a French play that aims to explore the definition of self acceptance and self denial. It was my first time performing in a theatre play since I fell and got the paraplegia injury in 2008."
Much like Liu, Golo, said he's also attracted by the uniqueness of French culture. Aside from promoting the film exhibition program Panorama of French cinema and several art exhibitions, Golo took time to reflect on the different the comic book cultures of different countries.
"French comic tells itself from those from Japan and the USA. It has over a hundred years of history and expresses an individual sense. It connects you with its cultural connotations," Golo said.
For more information check out the official website at http://www.institutfrancais-chine.com/