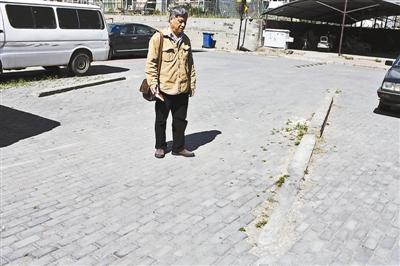 The site of Tongzhou Tuqiao [Photo/ Beijing Youth Daily]
Tongzhou Tuqiao (earth paved bridge), part of the historical Beijing-Hangzhou Grand Canal in Beijing's Tongzhou district, has been discovered under a modern residential community, according to Beijing Youth Daily.
A water beast statue, designed as part of the bridge, was found covered with tiles in an area in Tuqiao village, Zhangjiawan township. Tongzhou Tuqiao is located to the northwest of the statue where only two railings can be seen above the tiled ground.
A historical document shows Tongzhou Tuqiao, also known as "Guangli Bridge",was a section of the Grand Canal from Beijing to Hangzhou. It was abandoned after 1802 due to waterway changes. In 1998, the water channel was filled and arches and bridge stele were buried, with only the statue left above ground.
According to local officials, the protection project of the bridge had been listed earlier this year and the site will be fenced later.
The Tuqiao is not the only cultural heritage being abandoned and buried and the phenomenon is common in Beijing.
According to the Legal Evening News in March, Xiaojiahe ancient bridge in Haidian district was buried for more than 30 years. An application for protection has been submitted with the outcome pending.
In Haidian district, a Japanese aircraft site dating to the invasion of China during the 1930s and 40s was razed to ground by a real estate development company. The site was registered as an unmovable heritage in the third batch national cultural relics.
"Important national cultural heritages are well protected while the protection of small or less known ones is not enough," said Liang Xinli, deputy secretary general of Beijing History and Folk Culture Society (Beijing Shi Di Min Su). He suggested establishing a government mechanism to deal with protection of cultural relics.
"We lack a system where the government's decision on the protection of cultural heritage is open to the general public," he said "People's opinions and suggestions should be considered before the final plan is made."