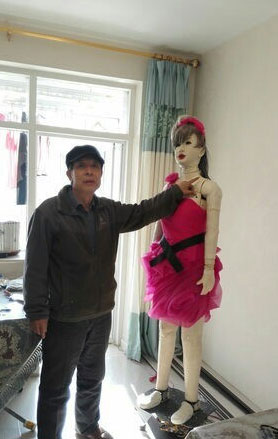 Li Zuchen and his robot. [Photo from web]
Man creates a dancing robot
Li Zuchen, a 63-year-old retired mechanic, built a robot that can move its limbs and waist, turn around and dance to music when switched on, ecns.cn reported on Wednesday.
The robot looks like a fashion shop mannequin. "Different from most robots, whose movements are stiff, my robot can move flexibly and its waist is movable too," Li said.
Li said he spent eight years developing the robot. His idea came during a shopping trip, when he learned the attractive mannequins at shops could not move: "They can't display the actual effect of wearing clothes during daily activities, so I decided to make a movable model myself."
Li finally put together the robot after years of learning programming and buying parts. "I don't have children. She is my daughter," Li said.
Li is now improving its features and thinking about patenting his invention.