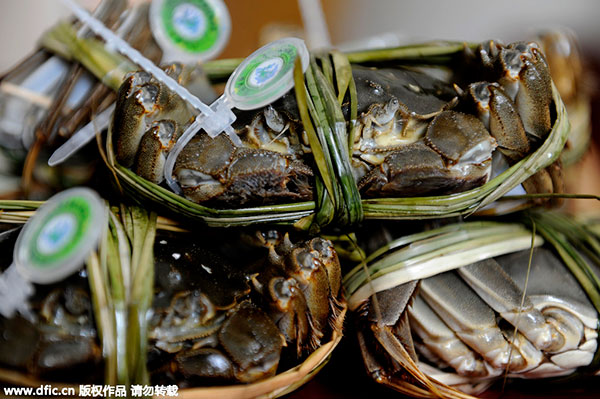 Hairy crabs are sold on shelf. [Photo/IC]
Mystery buyer purchases 5 tons of hairy crabs, sets them free
A man in Hangzhou, Zhejiang province recently bought five tons of hairy crabs over several consecutive days, but trucks will carry the crustaceans to a nearby river and set them free, Qianjiang Evening News reported on Friday.
A vendor who works at the market reveals the mystery buyer spent at least 300,000 yuan ($47,010) each day for the crabs for more than 10 days.
Another vendor said about six other people are helping the unknown man buy the crabs, and sometimes turtles and loaches. About 15 tons of hairy crabs in total have been purchased, costing at least 1.2 million yuan.
It is still unknown why these people are buying such a huge amount of hairy crabs and then setting them free. The local fishery authority said it's no good to release crabs in winter and the activity may disturb the ecosystem of the river, even though it's well-intentioned.
In our final story, a retired mechanic questioned why mannequins don''move – and built a one that can.