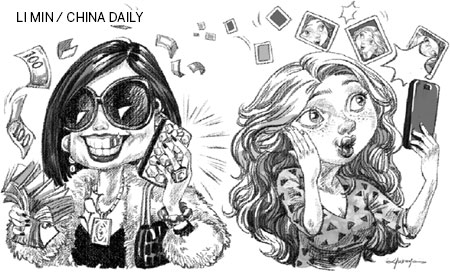 Language is fluid. It evolves and we invent new words to reflect new developments. Often the words can suggest how we think about those new developments. Two examples are "tuhao" (nouveau riche) and "selfie".
In China, tuhao is used mostly as a derogatory term to describe people who have accumulated wealth but not the corresponding good taste to go with it. An example is a man in Chengdu, Sichuan province, who promised to buy 1,000 pairs of shoes for people who showed up when he proposed to his girlfriend. Foreign Policy Magazine aptly equates tuhao with Chinese Beverly Hillbillies, taking its cue from an American television program from the 1960s that followed the lives of a group of backwoods people who suddenly became rich and moved to glitziest city in the United States. The group retained many of its backwoods' crass ways.
Tuhao or nouveau riche has an overall negative connotation, a negativity that may originate from the fact that many of us would like to be rich and our failure to accomplish our goal causes us to be resentful or jealous of people who achieve wealth.
Because of the popularity of the word tuhao, the Oxford English Dictionary is considering including it in its next edition. That would make tuhao an appropriate companion for the word "selfie" - which too is yet to be included in the Oxford English Dictionary, although it was designated the Oxford Dictionaries word of the year in 2013. Selfie is defined as a photograph that one has taken of oneself, typically one taken with a smartphone or webcam and uploaded to a social media website.
The word selfie was first used back in 2002 but Oxford editors say the use of the word has gone up a staggering 17,000 percent in the past year. Its first known use was, fittingly enough, in an online source - an Australian Internet forum.
So, why does a word like tuhao or selfie become popular? Well, the obvious answer is that a word becomes popular when people start using it a lot. For example, editors at the Oxford Dictionaries decide whether a new word should be included in the dictionary by examining evidence of that word being used in a variety of sources. The editors specifically try to assess whether a term is ephemeral or whether it will become a permanent feature of the language.
To decide which new words to include in the dictionary and to determine what they mean, Merriam-Webster editors study language usage. The editors scour texts and online sources in search of new words to decide if a word belongs in the dictionary. Before a new word can be added to the dictionary, it must have enough citations to show that it is widely used across a range of publications.