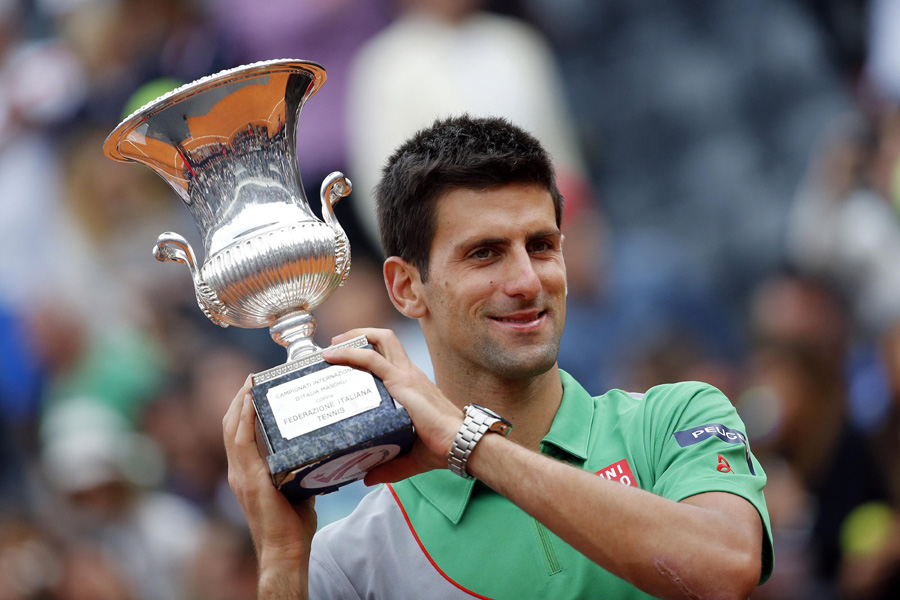 Novak Djokovic of Serbia holds the trophy after winning the men's singles final match against Rafael Nadal of Spain at the Rome Masters tennis tournament May 18, 2014. [Photo/Agencies]
ROME - Novak Djokovic extended his recent dominance over Rafael Nadal by rallying for a 4-6, 6-3, 6-3 victory Sunday to win the Italian Open for the third time - then dedicated the title to his flood-hit native Serbia.
Having also been beaten in Monte Carlo and Barcelona recently, it marked the first time in a decade that the top-ranked Nadal has lost more than two matches on clay in the same year.
Djokovic carved a heart on the clay with his racket to celebrate his title.
"This heart on the court is for you," he told the fans in Italian during the victory celebration. "It's also a special dedication to my country, which is suffering a lot right now. My heart is with them."
Authorities say 25 people have died in the Balkans because of the worst flooding in a century after three months' worth of rain fell on the region in three days this week. Tens of thousands of homes were left without electricity or drinking water.
The second-ranked Djokovic has now won four straight matches against Nadal - the previous three in straight sets - and takes the psychological edge into the French Open, which starts next weekend.
Roland Garros is the only Grand Slam that Djokovic has yet to win, with his best result a runner-up finish in 2012. Nadal has won the French Open eight times.
Djokovic's other Rome titles came in 2008 and 2011.
Midway through the final set, Djokovic earned a decisive break as Nadal made several uncharacteristic errors, and then broke again to close it out.
In the final game, Djokovic blasted a backhand cross-court return winner right by Nadal, before a backhand from the Spaniard sailed long on the second match point.
Djokovic, who sat out last week's Madrid Open due to a right wrist injury, hit 46 winners to Nadal's 15, while the unforced errors column was nearly even with Djokovic committing 30 and Nadal 27.
Djokovic's serve was also a factor. He hit six aces while Nadal had none.
Nadal was pushed to three sets in four out of his five matches here.
"It was a difficult week," the Spaniard said. "Too many hours on the court."