There was no denying something bigger than Barcelona's Spanish league title defense came to an end on Saturday.
Barcelona's 1-1 draw at home to new champion Atletico Madrid left it without a major title for the first time in six seasons.
Barcelona's failed last stand brought a finish to the most successful era in the 115-year history of the Catalan club, and it also marked the last game of embattled coach Gerard Martino, and most likely several of his players.
"An era is over, whether we like it or not," defender Javier Mascherano said. "To rebuild first you have to face reality, and the reality is that of making changes. The club will make decisions to forge a competitive team."
Pep Guardiola's return to coach Barcelona in 2008 started an unprecedented four-year run of winning 14 of a possible 19 titles, including two Champions League crowns.
Assistant Tito Vilanova then took over as head coach and added another league title last year as Barcelona's passing attack centered around Lionel Messi continued to enamor fans around the world.
But the slide that began with Barcelona's humbling 7-0 two-leg defeat to Bayern Munich in last season's Champions League only worsened under Martino in this campaign.
The Catalan club had a strong start to this season. After winning the Spanish Super-cup, a minor trophy, it led the standings for the first 21 rounds.
But then the distractions and stumbling blocks began to accumulate: Messi's tax problems and nagging injuries, the sudden exit of president Sandro Rosell caused by the lawsuit regarding Neymar's contract, and then the recent death of Vilanova after a battle with throat cancer.
Atletico kept Barcelona from advancing to the Champions League semifinals for the first time in seven seasons, and Real Madrid beat it in the final of the Copa del Rey.
Barcelona also struggled in the second half of the league season, dropping 22 points in the last 19 rounds, and had a chance to defend its crown only after Atletico and Madrid stumbled near the end.
On Saturday, Barcelona needed to beat Atletico to overtake the leader and win the title. And despite going ahead thanks to Alexis Sanchez's first-half goal, Atletico rallied after losing leading scorer Diego Costa and playmaker Arda Turan to injury to get the draw it needed from Diego Godin's header at the start of a second half.
Moments after the match, Martino confirmed what had been expected for weeks, and announced he would not be completing the one season left on his contract.
There will be other changes, too.
Goalkeeper Victor Valdes and captain Carles Puyol are leaving on their own accord. Others, including Mascherano, might be possible discards to make way for a younger generation of the club's youth academy and new offseason signings.
"There are players who will not continue," Barcelona president Josep Bartomeu said.
"Some things have been prepared and decided. In the coming days we will make them public.
"We will certainly maintain our style of play. That will continue."
Messi will remain the centerpiece of whatever squad emerges from this summer.
On Friday, Barcelona said it agreed to increase Messi's salary.
The club's all-time leading scorer is reportedly set to make about $34 million per year.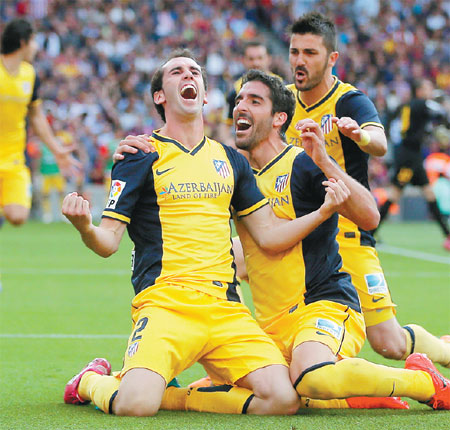 Diego Godin (left) celebrates with Atletico Madrid teammates after scoring his side's first goal in Saturday's Spanish La Liga showdown against Barcelona at Camp Nou stadium in Barcelona. AP Photo / Andres Kudacki
(China Daily 05/19/2014 page24)