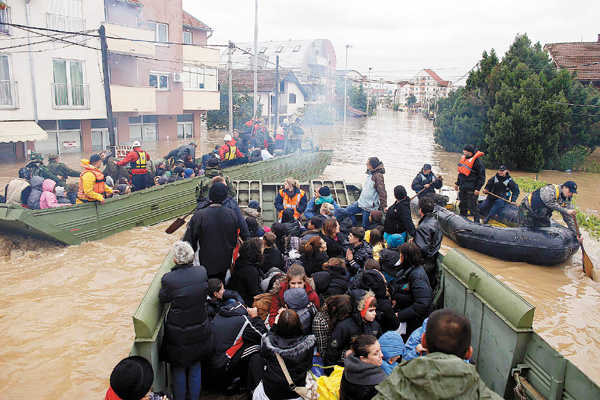 Serbian army soldiers evacuate people in amphibious vehicles in the flooded town of Obrenovac, southwest of Belgrade, on Saturday. Marko Djurica / Reuters
Russia, EU and neighbor countries send aid as disaster claims at least 30
Thousands of volunteers packed sandbags along the banks of Belgrade's Sava River overnight to brace for flooding after the heaviest rains in more than a century, authorities said on Sunday.
Mayor Sinia Mali said thanks to the defenses, "Belgrade is ready for the flooding wave" predicted in the afternoon on the Sava, which joins the Danube in Belgrade.
The disaster has claimed at least 30 lives and forced thousands of people from their homes in Serbia and neighboring Bosnia, where at least 30 people died in the northern town of Doboj alone.
Defenses were meanwhile holding in the most threatened northwestern Serbian towns of Sabac and Sremska Mitrovica, upriver from Belgrade, according to Predrag Maric of Serbia's emergency services.
Humanitarian aid, technical equipment and teams from Russia, the European Union and neighboring Montenegro and Macedonia were pouring in, authorities said.
"More than 20 corpses have so far been brought to the city morgue," the mayor of the northern Bosnian town of Doboj, Obren Petrovic, told Bosnia's FTV public broadcaster.
Another victim drowned in the town of Samac, police chief Gojko Vasic was quoted as saying by Fena News Agency.
The bodies of two elderly women were found in the town of Maglaj after the waters receded, the civil protection chief there told reporters.
On Friday, four flood victims were found in Bosnia and three in Serbia.
The death toll could rise. Serbian Prime Minister Aleksandar Vucic said, "Rescuers have started recovering bodies from flooded areas, but we will not make the number public before the water has receded completely."
Officials say landslides triggered by record-high floods have left hundreds homeless in Bosnia, while thousands more are fleeing their homes in Croatia and Serbia.
The town of Obrenovac, 30 km north of Belgrade, had been hardest hit and was being evacuated amid warnings of more flooding, Predrag Maric of the emergency services said.
Reporters were banned from entering the town, but a local television channel broadcast footage from a helicopter showing that most of the town was flooded, with water swamping the lower floors of six-story buildings.
Water defenses gave way outside Obrenovac near a power plant that produces about half of Serbia's electricity, prompting authorities to urge people to limit their use of power.
Sirens wailed in the nearby town of Baric as police ordered its 7,000 inhabitants to leave.
Some 78,000 homes in Serbia and 60,000 in Bosnia were without power, authorities said.
The European Commission said 14 European Union countries were sending aid, including helicopters, motorboats, food and medicine, to the flooded Balkan countries.
Belgrade opened 13 centers to receive thousands of evacuees. At one sports venue that had been turned into a shelter some 400 people sat on improvised beds, recounting now they were rescued.
Svetlan Joksimovic, 74, said he was forced to leave as "floods were carrying everything away".
"I do not know what happened to my cattle. I released the animals so they could swim," he told Agence France-Presse.
Danka Kistovic said a neighbor used a rope to pull her out of her flooded house.
"I couldn't move anywhere, water flooded everything. I couldn't go out any other way, so a neighbor came to me and put a rope around my waist, pulling me slowly toward their terrace where rescuers picked me up later," she said.
Many people were unable to track their family members as the authorities had not yet had time to compile lists of those evacuated.
AFP-AP