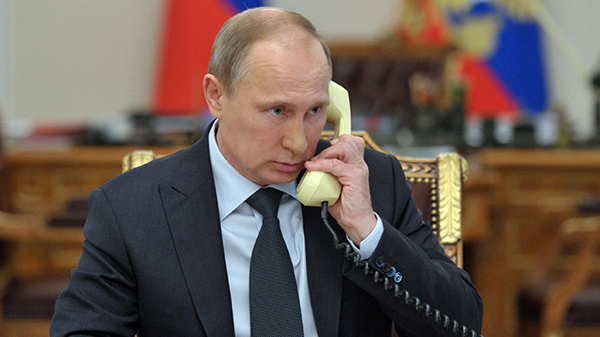 Russia President Vladimir Putin  
Full text of Putin interview with Chinese media before China visit
MOSCOW - Russian President Vladimir Putin has said his country's cooperation with China has reached its all-time best and that the two sides were ready to expand ties in numerous spheres.
China is Russia's diplomatic priority
"China is our reliable friend. To expand cooperation with China is undoubtedly Russia's diplomatic priority," Putin told Chinese reporters before attending the Conference on Interaction and Confidence-Building Measures in Asia (CICA) slated for Tuesday and Wednesday in Shanghai.
Putin, who will also pay a state visit to China on the sidelines of the summit, said he and Chinese President Xi Jinping will review the implementation of already-signed agreements, and hammer out future objectives.
"I believe the upcoming talks will inject strong impetus to various bilateral cooperation projects, as well as to the deepening of coordination between the two countries in the international arena," he said.
Putin pointed out that at the present stage the two countries should give priority to enhancing cooperation in economy, science and high technology.
Russia places China as foreign trade partners
Against the backdrop of global economic turbulence, it was of crucial significance for the two countries to strengthen mutually beneficial economic and trade relations and boost mutual investment, he said.
China is currently Russia's largest trading partner, with the trade volume between the two countries nearing 90 billion US dollars in 2013. The two countries aim to raise the trade volume to 100 billion dollars in 2015 and to 200 billion dollars in 2020.
On energy cooperation, Putin said preparation for agreements concerning Russia's natural gas export to China has entered the final phase.
"For Russia, implementing these agreements means diversifying gas supply destinations, while for our Chinese partners ... it could be a remedy for energy shortage and helps ecological security," he said.
Moscow and Beijing have also been cooperating closely to reduce trade reliance on the external market, Putin said, adding the two sides were now implementing 40 major projects worth 20 billion dollars.
In addition, he said, Russia and China were working on ways to expand settlement in local currencies in a bid to protect bilateral trade from exchange fluctuations of major foreign currencies.
On the cooperation in Russia's Far East, Putin voiced hope that Chinese enterprises take the lead in investing in that vast region, which will give specified preferential policies to investors.