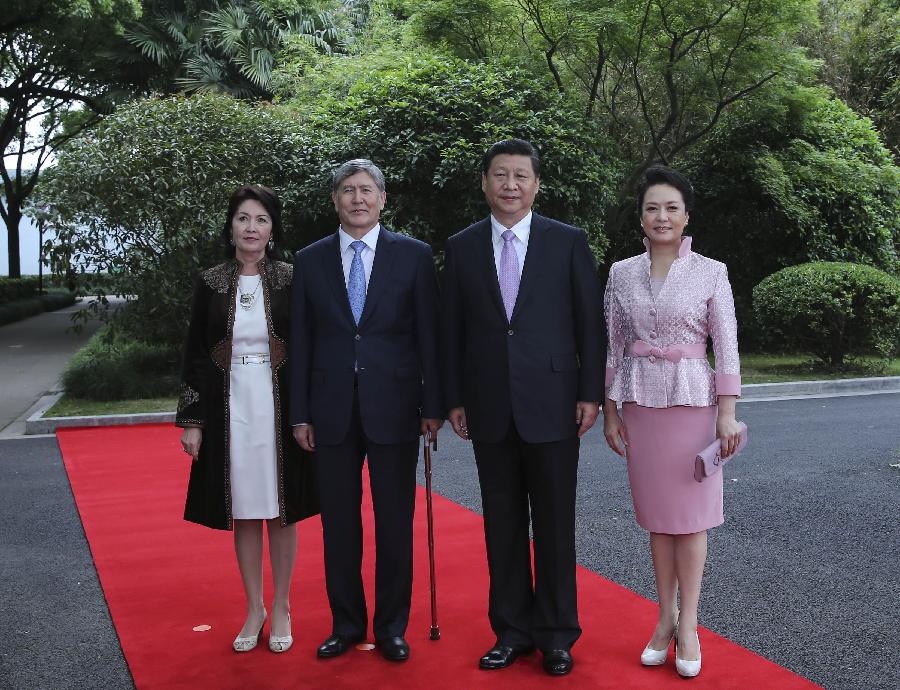 Chinese President Xi Jinping (2nd R) holds a welcoming ceremony for visiting Kyrgyz President Almazbek Atambaev (2nd L) before their talks in Shanghai, May 18, 2014. [Xinhua]
SHANGHAI -- Chinese President Xi Jinping on Sunday held talks with visiting Kyrgyz counterpart Almazbek Atambaev on bilateral ties and regional affairs.
At the invitation of Xi, Atambaev is visiting China from May 18 to 21. During his stay in Shanghai, the Kyrgyz president will attend the Fourth Summit of the Conference on Interaction and Confidence Building Measures in Asia (CICA).
In the meeting, Xi hailed the achievements the two countries have made in various fields since they established strategic partnership last year, calling on the two sides to further strengthen friendship, mutual trust, mutually beneficial cooperation with a long-term vision.
The changing international situation has brought some unstable and uncertain factors to the region, Xi said, adding that it also put forward new and higher requirements for bilateral relations.
China is a trustworthy and reliable friend of the Kyrgyz Republic, Xi said, stressing that China will continue to provide Kyrgyzstan with assistance and encourage Chinese companies to expand investment in Kyrgyzstan.
Xi called on the two sides to push forward cooperation projects in Kyrgyzstan's power transmission and transformation lines, thermal power plants, refineries, natural gas pipelines and high-yielding planting as well as to promote an early completion of China-Kyrgyzstan-Uzbekistan highway.
The two countries should provide financial and transportation support to bilateral cooperation, Xi added.
Xi called on the two countries to link bilateral cooperation to the the construction of the Silk Road Economic Belt, promote regional interconnectivity, trade and investment facilitation.
He also urged the two sides to deepen security and law-enforcement cooperation, jointly combat terrorism, separatism, extremism, drug trafficking and transnational organized crime.
The two sides should also enhance people-to-people and cultural exchanges so as to promote good-neighborly friendship between the two peoples.
On regional affairs, Xi stressed that it is in line with the fundamental interests of regional countries to safeguard central Asia's peace, stability, development and prosperity.
China opposes external forces' interference in central Asian nations' internal affairs, Xi said, stressing that China is willing to work with Kyrgyzstan in the CICA, Shanghai Cooperation Organization and other frameworks.
Xi urged the two sides to foster a sense of community of destiny and interests, advocate a common, comprehensive, cooperative and sustainable outlook of Asian security so as to jointly promote regional peace, stability and development.
China is a reliable neighbor and partner of Kyrgyzstan, Atambaev said, stressing that Kyrgyzstan appreciates China's selfless assistance and wishes an early realization of the Chinese Dream.
Kyrgyzstan will firmly support China on issues regarding China's core interests and major concerns, Atambaev said, adding that Kyrgyzstan is ready to strengthen cooperation with China on combating terrorism, separatism and extremism.
Atambaev said Kyrgyzstan is willing to actively participate in the construction of the Silk Road Economic Belt and promote bilateral economic cooperation, infrastructure interconnectivity and cultural exchanges.
Asian affairs should be handled by the Asian countries, Atambaev said, stressing that as a country cherishes its own stability, Kyrgyzstan is willing to work with China to make good use of the CICA to safeguard regional peace and tranquility.
The two presidents signed a joint declaration on further deepening strategic partnership and witnessed the signing of some cooperation agreements on security and infrastructure construction.