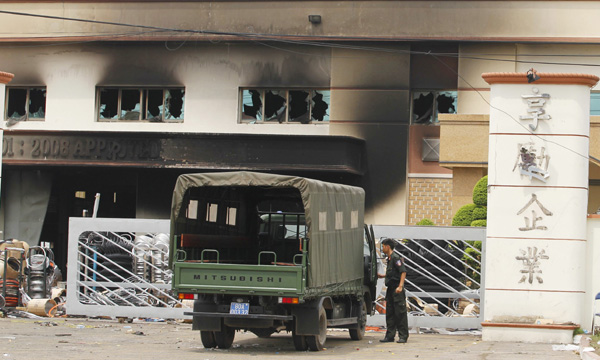 A police officer stands guard outside the damaged Shining company building in Vietnam's southern Binh Duong province on Friday. [Photo/Agencies]
Chinese government advises its citizens not to travel to Vietnam
Some Chinese travel agencies have suspended their tours to Vietnam, as the Chinese government issued security warnings for tourists after the anti-China violence in the country.
The National Tourism Administration has issued three warnings for Chinese tourists in Vietnam since May 14 and on Friday warned Chinese citizens not to travel to the country.
"We do not have any tour groups to Vietnam now and it is too risky," said a manager from China International Travel Service Co Ltd who refused to be identified.
He said the travel agency has stopped accepting bookings for trips to Vietnam.
The price of a tour to Vietnam is around 4,000 to 5,000 yuan ($640 to $800). The low price is attractive to some Chinese tourists, some business insiders said.
Some other travel agencies said they will cancel tours to Vietnam if the security situation deteriorates.
"Our agency hasn't received an official notice to stop sending tour groups yet, but we can help consumers cancel their trips if they are worried about the security situation there," said an official from China Comfort Travel Co Ltd.
Travel agencies said the number of bookings for trips to Vietnam has dropped since the anti-China violence began.
Zhang Meng, 32, of Beijing said she had planned to travel to Vietnam this summer after a friend recommended visiting the country.
"I definitely can change my plan to other countries, rather than take the risk," Zhang said.
Zhang said she had a positive impression of the country because of its efforts to help locate missing Malaysia Airlines Flight MH370.
"Why has the situation changed so fast?" Zhang asked.
Contact the writer at wangwen@chinadaily.com.cn