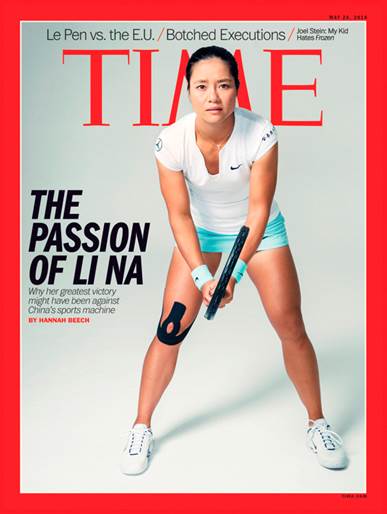 NEW YORK, NY - Li Na, Chinese tennis star, current World No 2 and winner of two Grand Slam titles, is featured on the May 26 issue of TIME magazine. This is the second time in a little more than a year that Li Na graces TIME's cover, having previously been featured on the cover of TIME's 2013 TIME 100 issue, the magazine's annual list of the 100 most influential people in the world.
"The Passion Of Li Na" feature is focused on the player's inspirational journey to achieving the pinnacle of success in professional tennis and her deep-rooted relationship with the Chinese people that have looked up to her for a decade. TIME defines Li Na to be more than a global sports icon—she inspires millions of Chinese as a symbol of independence and freedom. The full feature can be found here: http://ti.me/1jiaF52.
"I am really honoured to be featured on the cover of TIME magazine yet again. As one of the most widely read publications in the world, I am very grateful to be in the position to make an impact on the multitude of people, especially women, and to show them that if you truly believe in yourself and in your talent, and are willing to work hard, your dreams can become reality," said Li Na. "Dare to make a breakthrough and dare to challenge all' is my call for our young generation because self-transcendence is the true meaning of success."
Li Na's journey to success has turned the tennis player into a superstar athlete and one of the most lauded Chinese celebrities. She has been the torch bearer for women's tennis in China, leading the Women's Tennis Association's expansion efforts in the region. In 2010, there were only two tennis tournaments in China; in 2014, there are six, with the inaugural Wuhan Open taking place in Li Na's hometown on September 21, 2014.
TIME's decision to portray Li Na on the cover for the second time shows the power of women's tennis around the world and the unprecedented growth of the sport in Asia. By winning the 2011 Roland Garros title, Li Na became the first tennis player from Asia – male or female – to win a Grand Slam. She has followed the win up with a title at the 2014 Australian Open. She is the second highest paid female athlete in the world with more than $42 million in endorsement deals and is currently ranked World No.2. She is managed by Max Eisenbud out of IMG's Miami office.
Better tennis
Growing Fame
Stories behind
In Photos
Hola hoops fun  

Wax figure in hometown

 
Happiest woman in the world  
Sports celebrities on Time cover