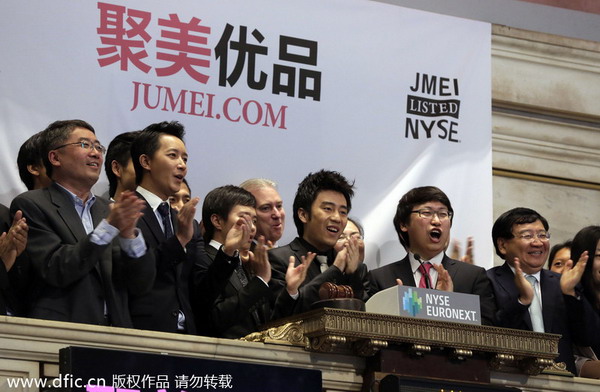 Jumei.com CEO Leo Ou Chen, third from right, is joined in applause as he rings the New York Stock Exchange opening bell, marking his company's IPO Friday, May 16, 2014. [Photo / IC]
NEW YORK -- Jumei International Holding Limited, China's leading online retailer of beauty products, saw its shares surged after its first trading day on the New York Stock Exchange (NYSE) on Friday.
Jumei announced Friday that it has priced its initial public offering (IPO) of 11.14 million American depositary shares (ADSs) at $22.00 per ADS for a total offering size of approximately $245.1 million, assuming the underwriters do not exercise their option to purchase additional ADSs, Jumei said in a statement.
Jumei's shares were traded under the ticker symbol "JMEI," with each ADS representing one Class A ordinary share of the company.
Jumei shares opened at $27.25 per share before finishing 9.91 percent higher to end at $24.18 apiece after its first day of trading.
Leo Ou Chen, founder and chief executive officer of Jumei, told Xinhua that he is satisfied with the company's stocks performance. "Bucking the trend of the current volatile market, the surge of Jumei's shares suggested investor and market recognition for the company."
Jumei's IPO will help the company "cooperate with international brands and partners to better serve its domestic consumers," Chen said.
Mark Otto, partner at J.Streicher & Co LLC and a trader at the NYSE, said that it's pleasant to see Jumei's shares post robust gains at its trading debut."Definitely, there has been a lot of interests in it, so the volume is extraordinary."
Jumei has grown rapidly and substantially since it launched its website jumei.com in March 2010.
According to a report from research firm Frost & Sullivan, Jumei is China's No 1 online retailer of beauty products as measured by gross merchandise volume with a market share of 22.1 percent in 2013.