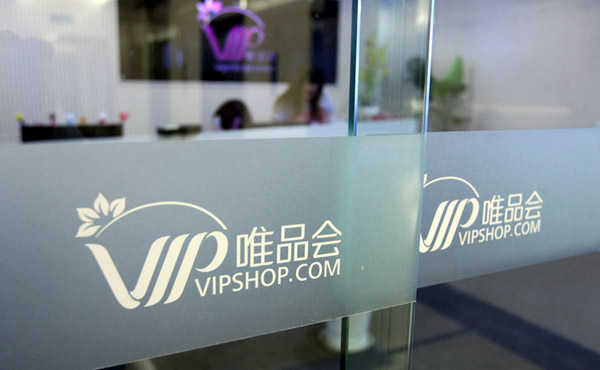 A photo shows the front gate of Vipshop in Shanghai. [Photo / Image China]
Vipshop Holdings Ltd, an online discount retailer listed on the New York Stock Exchange, announced on Friday that it will unite with one of China's leading online cosmetics company with a "strategic investment".
The Guangzhou-based Vipshop Holdings, which offers branded products to consumers throughout China at significant discounts, said it will join hands with lefeng.com to build China's largest online shopping platform for fashionable goods.
Vipshop Holdings, which is known primarily by its customers for its e-commerce website vip.com, didn't reveal the size of its investment. But it said the cooperation with lefeng.com has a promising future because both companies enjoy a leadership position in their individual sectors.
It has been reported that vip.com accounts for about 70 percent of all online sales of clothes and shoes in the country. Lefeng.com accounts for 50 percent of online sales of cosmetics in China. Since both companies target female customers, the cooperation is expected to help them increase loyalty among female shoppers.
Don't miss:
Jumei opens store in central Beijing
Tighter purses mean cosmetics market losing its gloss
China regulates children's cosmetics production
Cosmetic surgery tourism boost during holiday