China should make its framework compatible with other countries to promote trade agreements
The term negative list has become a catchphrase since the Chinese government decided to adopt one list in its negotiations on a bilateral investment treaty with the United States last July. On Sept 30, China announced its first negative list in governing foreign investment, applying it to the Shanghai (China) Free Trade Zone.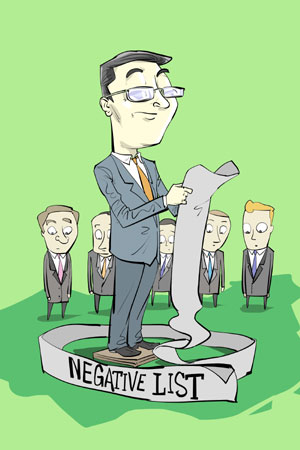 Zhang Chengliang / China Daily
While negative lists are new in the world's second-largest economy, the US has used them widely in investment treaties with other countries since the 1980s. In 1982, the US designed a template for bilateral investment treaties, which was updated and revised in 1994, 2004 and again this year. In all of them, the negative list played an important role.
Essentially, it's a blacklist that names areas and circumstances in which foreign investors are barred or limited. Anything that is not included on the list is fully open for foreign investors, who can obtain pre-entry national treatment.
For decades China has used a positive list in its regulation of foreign investment. Its Catalogue of Industries for Guiding Foreign Investment divides all industries into three categories: sectors where foreign investors are encouraged, where they are allowed and limited and where they are banned. In operating the positive list, China grants post-entry national treatment to foreign investors, meaning they can gain national treatment only after they are approved to operate in China.
But with the US accelerating its pace of reshaping global trade and investment rules by pressing ahead with the Trans-Pacific Partnership, the Transatlantic Trade and Investment Partnership and the Trade in Services Agreement, China, with its paucity of foreign investment regulations and underdeveloped service industries, risks being marginalized in this globalization. It thus needs to change its old pattern of foreign investment regulation and actively participate in the new wave of globalization.
China's first negative list was a step toward that goal. The country is still in the testing phase of the negative-list approach, and there is lot of room for improvement.