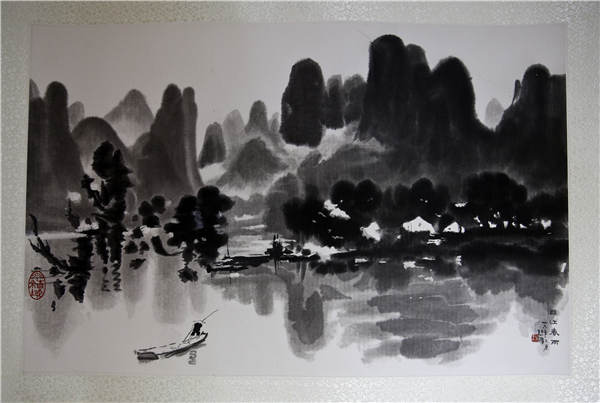 [Photo by Feng Yongbin/China Daily]
Though everyone interviewed in Rongbaozhai says hand printing, which preserves the water and ink flavor of Chinese paintings, cannot be replaced by machines, their workshop has adopted ideas of the modern assembly line.
There are more than 40 professionals in the studio, but each one is in charge of just one step: tracing, carving, or printing.
Lu Min, a 47-year-old carver, says: "In Japan, an Ukiyo-e practitioner may take part in every step. But our style makes people more focused on what they are good at, thus producing the best result we can produce."
Separately, Wang Yunxiao, the deputy directing manager of the printing studio, says: "Certain artistic tastes remain unchanged, no matter how the market changes.
"We don't duplicate popular artists' works just to cater to market demand," says Wang.
"Only the top master's works are chosen."
She says each set of registrations is used only a few dozen times mostly due to wear and tear.
If there are many thin lines in the painting, then life of the registrations is even shorter.
"We don't want to make our business a mass production operation. As the original paintings are national treasures, what we print is also precious cultural heritage."
Contact the writer at wangkaihao@chinadaily.com.cn