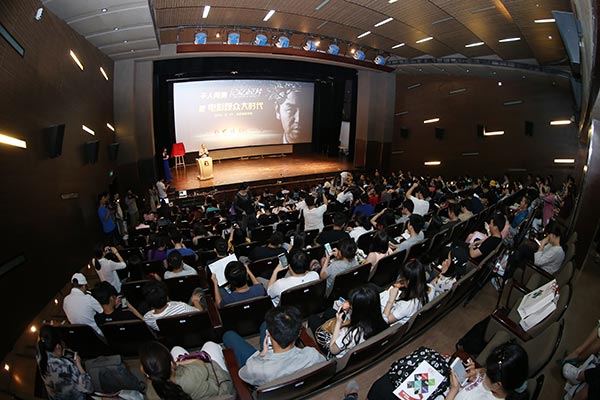 Audience attend the preview screening of Memento Mori. [Photo provided to China Daily]
How good is any movie?
The question challenges all the film investors, but it has recently got a somewhat quantified answer.
During a recent preview screening of the Sino-South Korean coproduction Memento Mori, around 1,000 audience wore brain wave-monitoring headsets to test their reactions to the crime thriller in the Beijing Film Academy on May 21.
Led by actor Lei Jiayin and actress Xia Zitong, the film directed by South Korea's Yu-hwan Park will open in the Chinese mainland theaters on June 3.
In this tale, a lawyer finds an acquaintance dead in his wardrobe after waking up from a hangover. He cannot remember what happened, and is involved into a series of misfortunes amid an adventurous journey to hunt down the murder.
Offering one last opportunity to adjust some content based on audiences' reaction, the pre-release screenings with the brain-monitoring headsets attempt to read the emotions the film evokes in viewers' minds.
The equipment can track the wearer's brain waves and transfer the data to computer via Bluetooth technology. The data are analyzed by a special system, and producers can use the results to re-edit the least and most attractive sequences.
"More than 300 films are released in theaters every year, but few of them have been tested by the audiences based on a quantified system. Such a data-collecting system can help the filmmakers to re-edit some content," says Zhu Yuqing, founder of the Beijing film firm Online Film Market, which has partnered with Tsinghua University to develop the movie-evaluating system.
Zhang Baiqing, honorary chairman of China Critic Association, says the movie industry is seeing some of the "final say" shifting from directors to audiences.
"When the audiences are playing the most crucial role of deciding what a movie is about, the filmmakers need to know more and earlier about what will attract them," he says.
Related:
Reliving connections with an 'Oscars' hero