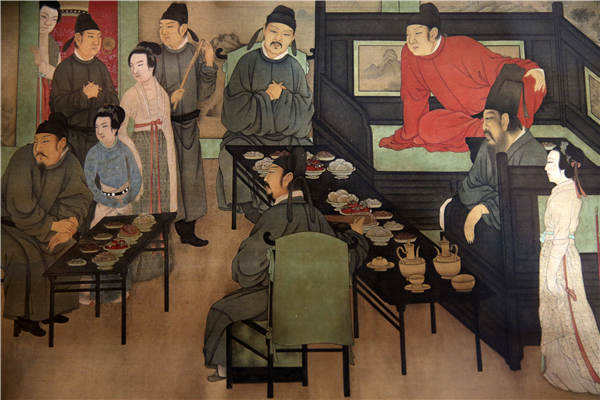 A part of Rongbaozhai's duplicated 10th-century masterpiece Night Revels of Han Xizai. [Photo by Feng Yongbin/China Daily]
"Printing with water needs lots of technique to control speed, strength and moisture to ensure high quality," she says.
In spite of being an industry veteran, Zhao admits that there is so much to be learned.
For instance, printing on silk.
Though silk is a commonly used material in ancient Chinese painting, she rarely takes such jobs.
"Sometimes, we have to admit the material we get today is not fine enough," she says. "And, maybe, our predecessors were better at it."
But she does point out that techniques have also improved in some areas.
For instance, the older generation of printers used to make use of several registration panels to express gradually-changing colors, but today's printers can use just one registration to print two or three similar colors due to their fine art education.
As Xiao says: "Unlike the older generation (of printers) who often came from the grassroots, the new recruits are usually professional art students."
"This makes it easier to pass on the techniques (to them) compared with other art forms where there is a worry about a lack of people to inherit the skills."