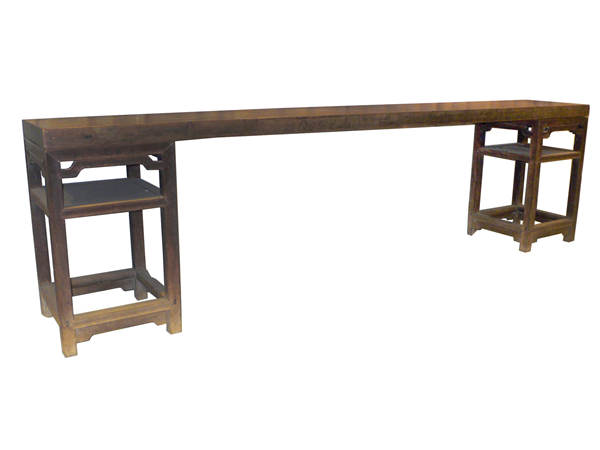 A Ming Dynasty (1368-1644) huanghuali table on show at the International Antiques Fair, hosted by William Chak's company. Photos provided to China Daily
In a typically inspiring story, William Chak has evolved from an apprentice to a connoisseur. Lin Qi reports.
Antique collector and dealer William Chak has a hectic schedule of traveling between Hong Kong, where he lives, and the mainland that connects him with a growing base of buyers.
A few weeks ago, the 58-year-old also made trips to auction previews in cities like Xiamen in East China's Fujian province, and Shanghai, to advise local collectors.
The annual International Antiques Fair, organized by his outfit, Chak's Company Ltd, an antique gallery and advisory firm, is being held through May 31 at the Hong Kong Convention and Exhibition Center, gathering dozens of antique galleries and auction houses worldwide. Launched in 2005, the fair features Oriental art, mostly Chinese antiques.
As an associated project of the annual Le French May Arts Festival, this year's International Antiques Fair includes classical and decorative European art catering to Asian buyers.
Chak will be back in Beijing at the weekend to deliver a lecture on Tang Ying, a ceramic artist of the Qing Dynasty (1644-1911) who oversaw official kilns.
Chak became a television personality in 2006, when he appeared as a regular guest for about six years in Tianxia Shoucang (the world of collecting), the high-rated weekly show on Beijing Satellite Television. He sat on a judging panel with experts from academic institutions who examined the authenticity and evaluated antiques brought by common people.
His cheerful face and easy explanations of art made him popular with viewers, helping him to reach out to an increasing population of collectors on the mainland. His Sina Weibo account has more than 420,000 followers, and he replies to people who post photos of recently purchased wares or family heirlooms discovered in their storerooms.