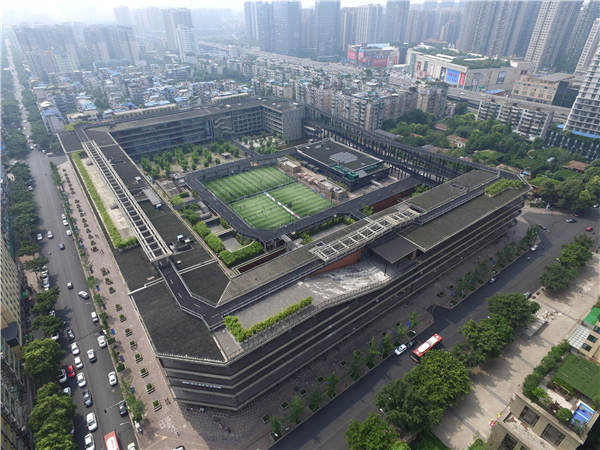 An architecture project in Chengdu is one of the highlights at the ongoing Venice biennale. [Photo/Xinhua]
How to serve people better is a central message of the China pavilion at the Venice Architecture Biennale, which opened to the public on Saturday.
The Venice Architecture Biennale is directed this year by Chilean architect Alejandro Aravena, known for his pioneering social housing projects in Latin America.
It is themed "Reporting from the front" to show the complexity and diversity of the challenges currently faced by architecture. The event is held every two years in Venice.
Liang Jingyu, the curator of China's national pavilion, says he joined hands with a team of architects and designers to tackle the issue of the "ignored front" of modernization, namely the "dignity, welfare and equality" of all citizens.
Called Daily Design, Daily Tao, the pavilion has more than 10 projects reproducing the traditional values and way of life lost in today's globalized world, Chinese Vice-Minister of Culture Yang Zhijin said at the pavilion's opening.
In fact, the exhibition is about things and designs that satisfy people not by introducing a new future to replace the past, but by polishing the past and integrating it into daily lives, contradictory to modern architecture that focuses on futuristic and spectacular projects, says Yang.
Another Chinese pavilion in Venice called Across Chinese Cities - China House Vision explores the future of living by taking the "house" as a prism for rethinking of the larger systems of production that traverse it, from environmental and energy consumption to mobility and distribution.
The project, Italian curator Beatrice Leanza explains, involved a team of China-based architects including Liang, to address the wider cultural and historic implications affecting architecture practice in today's China.
Five thematic clusters, one of which features a project dedicated to the 2016 Across Chinese Cities guest city Chengdu, present to visitors installations integrating research data, visual and material archives.
The Venice Architecture Biennale is a major event, and China is among the participating countries.
The ongoing 15th edition includes 65 national participants.