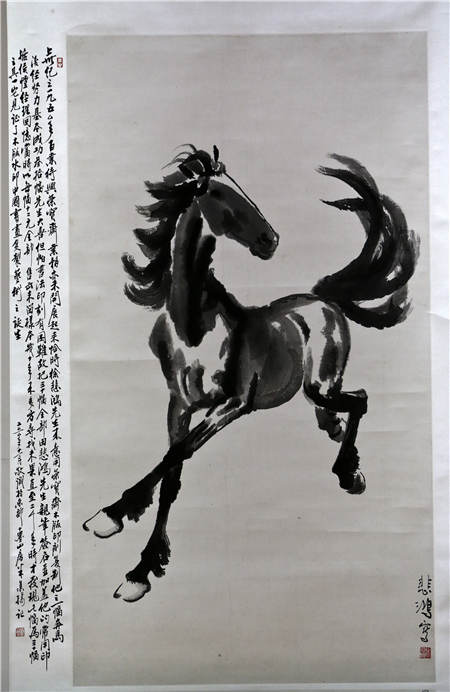 A duplication of Xu Beihong's horse painting. [Photo by Feng Yongbin/China Daily]
The traced silhouette of the original work is used to carve seven woodcuts.
Xiao is in charge of the first step of a months long process to duplicate a small-size masterpiece.
"We cannot do all the patterns with the same registration," says Xiao.
"When we have orders for such an art piece, we also need to create the layered feeling when printing them."
The number of registrations is based on the number of colors used in the original painting.
Complicated paintings need hundreds of registrations.
When Rongbaozhai printed the 10th-century masterpiece Night Revels of Han Xizai in 1979, as many as 1,667 registrations were needed.
Xiao has been working in Rongbaozhai's printing studio since 1978 and his daily work is almost the same.
He feels fortunate to have had the chance to make facsimiles of original masterpieces housed in the Palace Museum for four years after he entered the workshop.
Speaking of the skills needed for the job, he says: "You need to be diligent.
"That is all needed to take this job, and all the rest can be nurtured."
However, he says many young people try it out and leave.