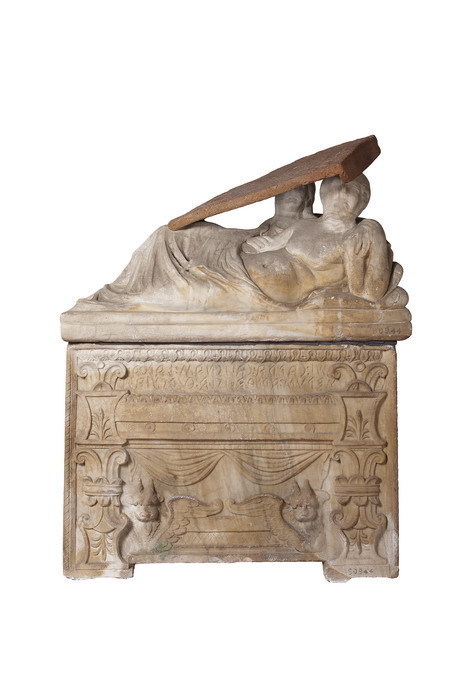 A double urn shows a male and a female figure wrapped in a cloak. Photo provided to China Daily
An exhibition jointly organized by Chinese and Italian museums is touring the Middle Kingdom to introduce visitors to the Etruscans, the most ancient civilization of the Italian peninsula, which laid the foundation for Roman civilization.
The exhibition features 311 precious items on loan from 13 Italian museums.
"This is the largest exhibition of Italian archeological findings that I've helped bring to China," says Adriano Madaro, president of the Italy-China Museums Alliance, which unites 26 Italian museums and 32 Chinese museums.
Madaro is on his 183rd trip to China since 1976 to promote the exhibition's show at the Guangdong Museum.
"I've worked as the curator for a series of exhibitions of Chinese cultural relics at the Casa dei Carraresi Museum in Italy since 2005. Now I bring shows of Italian cultural relics to China, comparing two great civilizations."
Madaro says people will find similarities between the Etruscan civilization and ancient Chinese civilization.
"Both of them respect the dead and value the idea of the afterlife," he says.
IF YOU GO
9 am-5 pm, closed on Mondays, until Aug 24.
Guangdong Museum, 2 Zhujiang Dong Lu (East Road), Zhujiang New Town, Tianhe district, Guangzhou.
020-3804-6886.