Natural growth from Heilongjiang's farms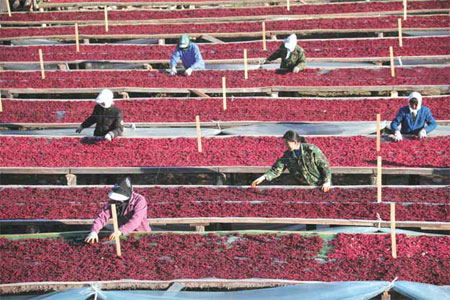 Employees at the Qinghe Forestry Bureau in Heilongjiang dry berries from the magnoliavine used in Chinese herbal medicine. [Photo provided to China Daily]
Increasing emphasis on organic food pays dividends.
A wide variety of green food from Heilongjiang province attracted visitors from across the nation at the 10th Beijing International Organic Food Exhibition between April 7 and 9.
More than 60 enterprises from the northeast province participated with over 1,000 products showcasing achievements in the industry and the potential of the country's largest growing center for green and organic food, said officials.
The display included organic rice priced between eight yuan ($1.28) and 100 yuan per 500 grams, mushrooms priced at more than 100 yuan per 500 grams, and various kinds of sausages and salmon.
Heilongjiang has good conditions for green food, organic food and animal husbandry with a grassland covering 4.33 million hectares.
It has 67 percent of the country's total black soil area and a long cold winter that leaves the land dormant, providing a natural shield against plant diseases and insect pests.