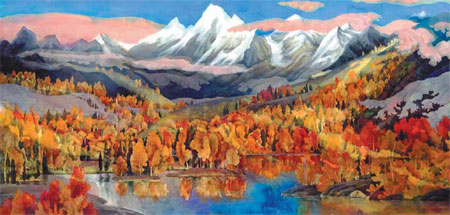 Scared Mountain from Mu's Silk Road series. Provided for China Daily
Many people believe that Chinese paintings prioritize lines but give inadequate emphasis on color. That's unfortunately a misconception silk painter Mu Yilin has been rectifying with his resplendent works.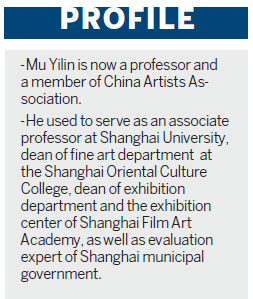 Be it his early painting Impression of a Lotus Pond or signature series Both Sky and Earth Are Poems, the bold, extensive use of colors, either in an abstract or concrete way, stand in stark contrast to those traditional Chinese works one typically has in mind.
Mu did not paint this way at the very start. Born in 1944, he studied traditional Chinese painting at Shanghai Fine Arts School from 1960 to 1966. Like most contemporary Chinese painters, Mu started his career by painting on the traditional medium of paper and made his name in the field when his work won first prize in a nationwide competition in 1979.
However, something happened several years later that changed his life.
In 1983, Mu observed by accident the visual effects of inks and paints on silk, which kindled his enthusiasm in the new yet traditional medium.
History has it that Chinese painters started writing and painting on silk some 3,000 years ago. The woven material had since served as the most popular medium for painters for 1,500 years, before it gradually gave way to paper during the Song Dynasty (960-1279). The replacement also made the colorless water and ink almost equivalent to Chinese painting for most foreign people.
That's why Mu made his mind to rejuvenate the art of silk painting. He has since restored a whole set of traditional skills and credited it with extraordinary atheistic values due to his pioneering moves, like painting on folded layers of silk.