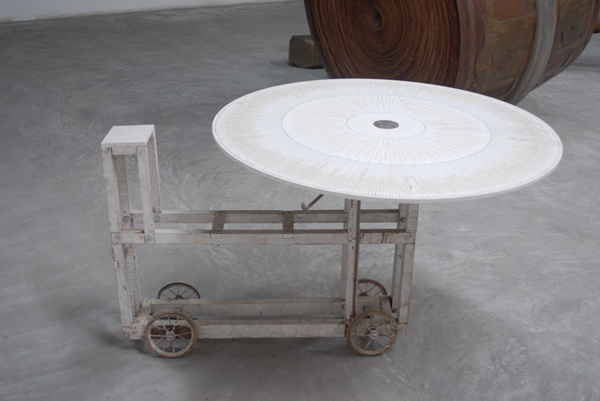 Huang Yongping's installation work, a large turntable with four wheels, is among the exhibits. Photo provided to China Daily
"Advance through retreat" is a military strategy first proposed by Sun Tze in his Art of War in the 6th century BC.
Curator Martina Koeppel-Yang has borrowed the idea for an exhibition of contemporary art in Shanghai.
China's traditional ink-and-wash art is gaining more attention in the international art scene. Koeppel-Yang, a German scholar of Chinese art, aims to look at traditional media from a different angle.
She has brought together the works created by 15 contemporary artists. Ten are domestic. Five are overseas.
Koeppel-Yang gave a guided tour in Chinese for the media on May 9, before the show opened to public.
Politicians in ancient China would retreat to nature when they lost favor with the imperial court, hoping the emperor would learn of their loyalty and wisdom, and eventually invite them to play greater roles in the center of power.
Koeppel-Yang believes the strategy is relevant to artistic production today. She has found this in contemporary artistic practice with the use of traditional media and procedures to express resistance to assimilation and challenges from the established power structure.
RAM director Larys Frogier says that Advance Through Retreat brought together artists who do not consider tradition as frozen time or as an established system. Rather, they question tradition as a way to test the limits and possibilities of contemporary creation.
The first piece viewed upon entering the museum is graffiti calligraphy by Tsang Tsou-choi (1921-2007). An electric box stands like the parody of a monument, covered by his writing about him and his family.
Nicknamed "the King of Kowloon", Tsang began to mark the streets of Hong Kong with his distinctive graffiti at age 35. Years after his death, the Hong Kong government said it will not remove the remaining works of Tsang and will consider ways to preserve them.
On the second floor are installations by Huang Yongping, one of China's most respected contemporary artists. The centerpiece is a large turntable with four wheels Huang built in 1987. On the table, he inscribed texts and numbers from ancient China's I Ching.