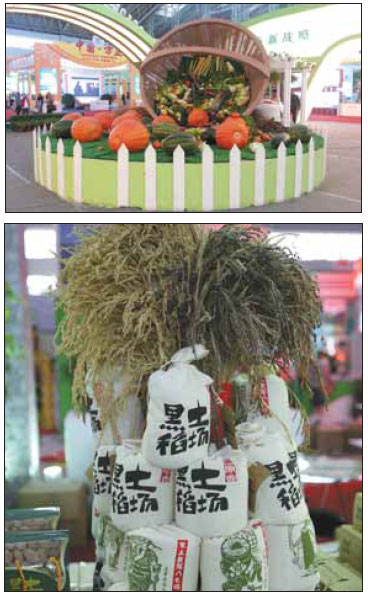 Green and organic food on display at the Harbin Agriculture & Food Expo last year. [Photo provided to China Daily]
The first flagship store for green food from Heilongjiang opened in Hong Kong in February offering more than 200 specialties from the Northeast China province.
Of the 64 product providers, 27 are based in the provincial capital Harbin. The city is a national base of both industry and agriculture, widely believed to be an area to grow rice, corn and soybeans of world-class quality.
With many rivers flowing through and abundant rain, Harbin boasts rich water resources and the largest forest area of all provincial capitals nationwide. Nearly half of the city's area is forest.
More than 90 percent of the city's farmland is covered by fertile black soil, different from the yellow soil common elsewhere.
In summer, sufficient sunshine, fresh air and a large temperature difference between day and night provide ideal environment for the farm produces and animals to grow. In the winter, ice and snow eliminate pests.
Many local farms and farming cooperatives with certifications for green or organic food have established partnerships in purchasing seeds and fertilizers, processing and sales networks. Some have also developed quality tracking systems, controlling every procedure from sowing seeds to harvest and storage.