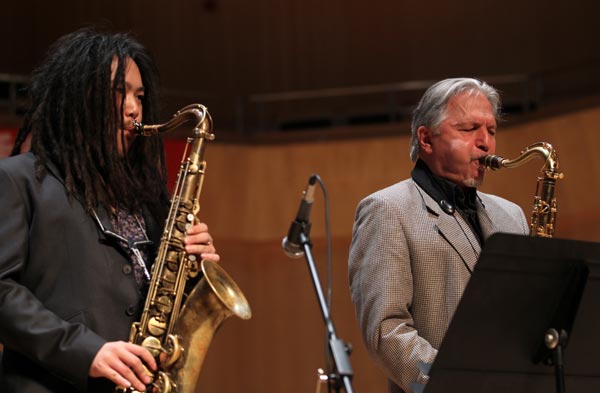 Chinese jazz musician Li Gaoyang (L) and American musician Jerry Bergonzi perform during their Quintet China Tour in Beijing on May 16, 2014. Photo provided to chinadaily.com.cn

Chinese jazz musician Li Gaoyang has teamed up with American jazz maestro Jerry Bergonzi for their Quintet China Tour which started with a performance at the China Conservatory – China's top academy for music - on May 16 in Beijing.
The duo is performing along with Carl Winther and Anders Mogensen of Denmark, and Aman Johnny of Finland. They will be entertaining the public in cities such as Fuzhou, Xiamen and Guangzhou, before they conclude in Hong Kong on May 24.
Li – who plays the saxophone – has released an album together with Bergonzi, titled "East Meets West." He is giving out copies of the album to music students, with the aim of inspiring them to focus on their dreams to become jazz artists.