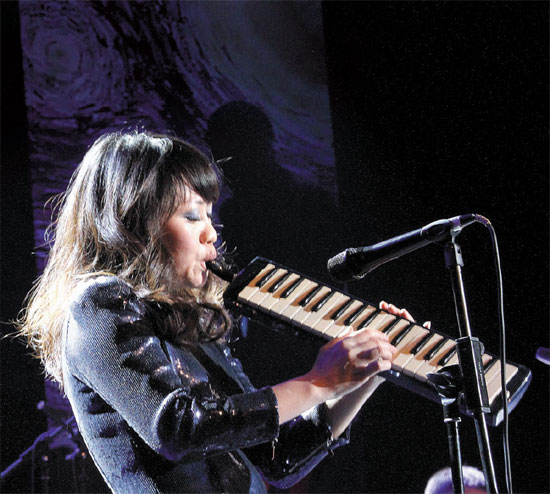 Nine Gates Jazz Festival has developed into one of the major platforms for local musicians like singer Zhang Ying to display their talent. Photos provided to China Daily
Huang Yong says he used to cringe at the music of Miles Davis, but now the bassist is the capital's big champion of the genre. Lucy Cheung speaks to the founder of the Nine Gates Jazz Festival.
When Huang Yong was a young man studying bass, jazz music held little appeal. "When I was 20 years old, I couldn't bear listening to Miles Davis for 10 minutes," says the founder of the Nine Gates Jazz Festival. "But when I started to explore jazz music on my bass, to read and understand its structure and its unique language by practicing pieces from Miles' album Kind of Blue, for example, I found that jazz was gradually sinking deep into my heart and soul, and it requires me to push my limits constantly." Since transforming from reluctant listener to true believer, Huang now heads the Nine Gates Jazz Festival, regarded as the only major jazz festival in the northern region of China. The annual event, now in its eighth year, kicks off on Dec 19 and will feature established jazz musicians from Beijing, Shanghai, Kunming and the United States, performing in different venues across the capital.
A highlight will be a concert featuring composer and pianist Xia Jia, guitarist and bassist Liu Yue and 13-year-old jazz piano prodigy Dai Liang (stage name Abu) at the Guo Yin Tang music hall of the Chinese Conservatory of Music. The China Jazz Association will also be officially launched during the festival.
Unlike a lot of international star-studded jazz festivals in China, Nine Gates focuses on promoting local talent.
"Before Nine Gates, Udo Hoffmann, the German curator, started the first jazz festival in Beijing back in 1993," Huang says. "I loved those years, getting on stage with international big names. The atmosphere was truly festive. But when I had the idea of starting my own festival, I thought importing jazz is not enough. The only way to truly develop the local jazz scene is to help create a plat form for local musicians to have their voices heard." 
His dedication to developing the jazz scene in Beijing saw Huang form his own company and fund the first Nine Gates festival with his income as a bassist.
"Beijing was known as the only city in ancient China that had nine gates. Naming the festival 'Nine Gates' is a tribute to Beijing city," Huang says.