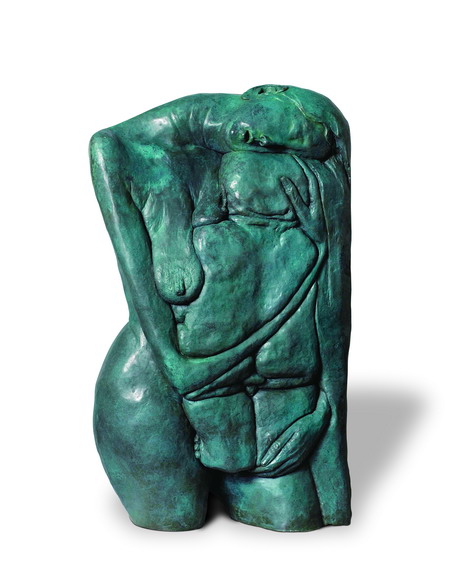 Mother and Child shows Tian Shixin's concern for ordinary people's lives. Photos provided to China Daily
Sculptor Tian Shixin is simple and straightforward, and his attitude toward life is reflected in his sculptures.
The 73-year-old works in his studio in a village in a Beijing suburb, far from the clamor of the city, devoting himself to his lifelong pursuit—sculpture.
His ongoing show at Tianjin Grand Theater, Hello, Souls, displays 38 sculptures Tian created from the 1980s to today, including his early works focusing on ordinary people in Guizhou province and significant figures in Chinese history.
Tian's sculptures are on the first floor of Tianjin Grand Theater, the venue of a three-month ongoing theater festival. Tian says if live theater depicts a snapshot of society, his sculptures reflect the souls of society.
Having lived in Guizhou for 14 years, Tian started sculpting by making models of ordinary people going about their daily lives—a woman tending pigs, ducks and chickens, a man smoking a pipe and farmers enjoying a drink.
IF YOU GO
8:30 am-9 pm, until June 7.
Tianjin Grand Theater, Leyuan Lu (Road), Hexi district, Tianjin.
022-8388-2008.