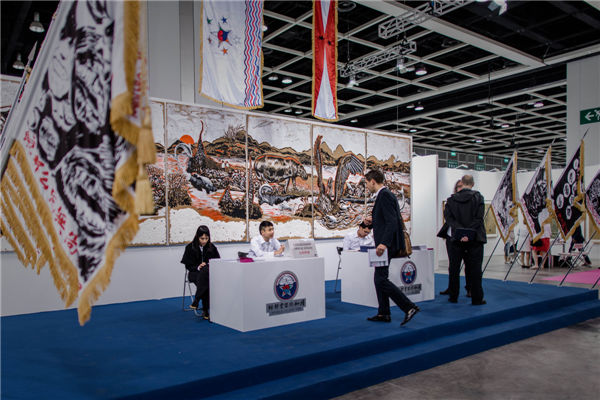 People are seen at the booth displaying the work by Chinese artist Sun Xun, which offers buyers the opportunity to obtain the "citizenship" to his imaginary country, the Republic of Jing Bang, at Art Basel in Hong Kong. Philippe Lopez / Agence France-Presse
Anchoring what is informally known as Hong Kong art week, Art Basel opened to the public on Thursday. VIPs got a chance to preview the 245 galleries from 39 countries exhibiting on Wednesday, featuring primarily contemporary art.
Every year at this time Hong Kong's social life goes into overdrive with a whirlwind of more than 25 gallery openings, charity art auctions, debates and champagne-fueled parties held on warehouse rooftops, at poolsides and parking garages.
"It's like the Rugby Sevens for the Hong Kong arts and cultural set," says Alice Mong, executive director of Asia Society Hong Kong, which hosted a gala dinner for 400 people on Monday night honoring Asian artists Zhang Xiaogang, Bharti Kher, Takashi Murakami and Liu Guosong.
Launched as Art HK in 2008, the fair was re-branded Art Basel Hong Kong last year after the owners of Art Basel and Art Basel Miami Beach purchased a majority stake in 2012 and it is now a major stop on the international art circuit. About half the exhibitors have space in Asia and the Asia-Pacific, a deliberate decision to keep the fair's original regional flavor.
Returning to Hong Kong for the fifth year, New York-based Paul Kasmin gallery is featuring both Western and Asian works to take advantage of buyers' increasing willingness to stray outside their comfort zones.