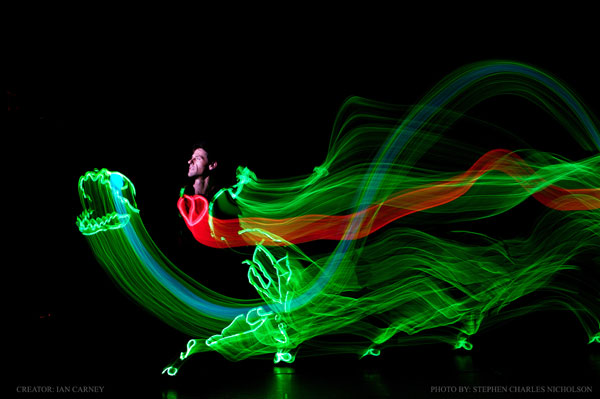 Lightwire Theater masterminds Corbin Popp (left)and Ian Carney will bring their hit show to Beijing. Photos provided to China Daily
In 2012, Lightwire Theater, a light-up puppet group act, received a standing ovation for its Dinosaurs With Light Sabers performance on NBC's hit show America's Got Talent. Glowing dinosaurs roared at the crowd amid colorful dancing flowers.
Now the act is coming to China, where the group will perform a kid-friendly show, Darwin the Dinosaur, and offer workshops on their art. Lightwire Theater will perform at Tsinghua University on May 16 and 17 in Beijing and at the National Center for the Performing Arts on June 1 and 2.
"Darwin, our green dinosaur, was one of the first characters we built," says Ian Carney, one of the founders of Lightwire Theater and a former ballet dancer from New Orleans. "My wife Eleanor and I wrote the story, which is about a magical professor who builds a dinosaur and gives him a heart. In the story Darwin discovers the true meaning of love. We actually made the show without a specific audience in mind. We just made something we liked."
"We love doing workshops because it is the only time we get to interact with the audience," says Eleanor Carney, also a former ballet dancer. "We show them a little bit about how we work. We ask for those who wish to participate to join us. We are able to give them a real behind-the-scenes look at how everything works.
"We really focus on making shows for the entire family. Our goal is to have mom and dad laughing with the kids."
The two have been dancing together since 1996, when they joined Montgomery Ballet, playing roles in Giselle, Cinderella and The Nutcracker. They share a great passion for dance and telling stories through movement.