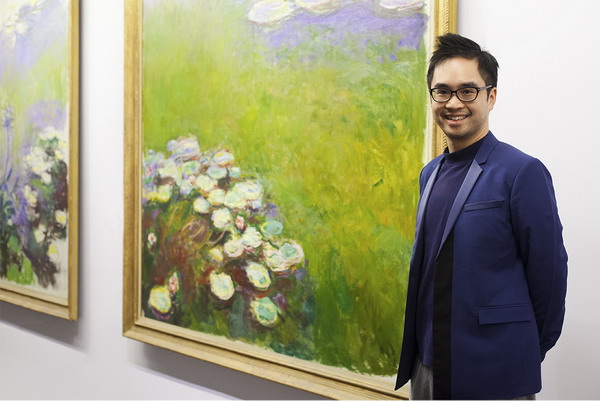 Adrian Cheng creates K11 mall, where a Monet exhibition is held, like a curator working with a museum. Provided to China Daily
Adrian Cheng is not surprised at the sight of hundreds of people waiting on a weekend morning to see the Claude Monet exhibition at K11.
Cheng created K11, which claims to be the world's first art mall. It's located in downtown Shanghai on Huaihai Road. The exhibition-the first of the French painter in China-is expected to receive more than 300,000 visitors by the time it ends in mid-June.
Cheng, 35, is the third-generation heir to one of Asia's most wealthy family businesses. His family owns the Chow Tai Fook Jewellery Group Ltd, which is the majority shareholder of Hong Kong-based New World Development Company Ltd.
The first K11 art mall opened in Hong Kong in 2009, and Shanghai K11 is the first integrated project of the brand on the mainland. Cheng plans to build K11 malls and office spaces in 11 cities within the next six years.
He designed K11 like a curator working with a museum, handpicking all the retail shops and restaurants, and keeping one whole floor for art.
The Monet exhibition is being displayed on the third floor underground. Forty paintings, including Monet's late-period signature pieces Water Lilies and Wisteria, are on display. The exhibition has attracted so many visitors that the wait time on weekends is more than an hour.
The Paris Marmottan Monet Museum allowed Cheng to present the exhibition in the basement of a shopping mall because they liked it as a "contemporary space", rather than a traditional museum.
IF YOU GO
11 am-8 pm, Friday-Wednesday, 11 am-6 pm, Thursday, until June 15. Chi K11 Art Space, B3, Shanghai K11 Art Mall, 300 Huaihaizhong Lu (Road), Huangpu district, Shanghai. 021-6440-0379.
Related:
Monet's 'Water Lilies' auctioned in NY for $27M
Monet, other art from big collectors lead auctions