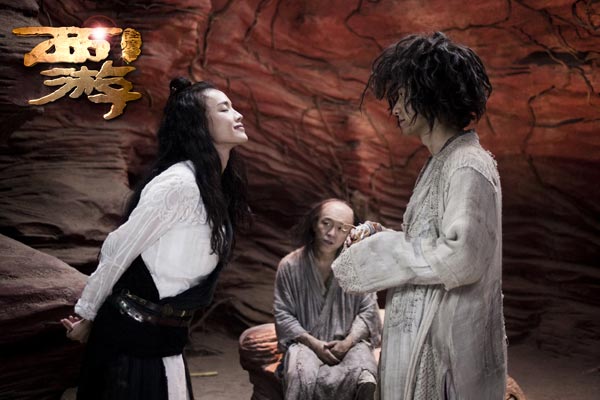 A scene from Jourey to the West: Conquering the Demons. Photo provided to China Daily
BEIJING -- Huayi Brothers Media Group, one of China's most established private
film
studios, announced on Thursday that it aims to gross 10 billion yuan ($US 1.6 billion) at the box office in the next two years with cooperation from Hollywood's Studio 8.
Huayi Brothers has earned 9 billion yuan in the last 20 years, said chairman Wang Zhongjun, adding that the studio's target for the next two years is 10 billion.
"After several years, it will even be possible for us to make 10 billion yuan from one project, considering that the four Hollywood directors cooperating with us all have experience in billion-dollar projects," said Wang.
Huayi Brothers will inject between $US 120 million and 150 million into Studio 8 in 2014, the first year for the partnership. According to Wang Zhongjun, Huayi Brothers will become an entertainment empire focused on film and television production along with online games and theme parks.
The studio also announced on Thursday its production plan through 2015, with 32 movies directed by or starring big names from home and abroad, including Chinese kung fu star Jackie Chan, Hong Kong film director Hark Tsui, Brad Pitt, Johnny Depp and Keanu Reeves.
Directed by David Ayer and starring Brad Pitt, "Fury" is set for release in November 2014.
The new films announced for 2015 are a Jackie Chan action movie set in ancient China and the third installment of Hark Tsui's Detective Dee series.
"The Ghouls," directed by Wuershan and supervised by Kuo-fu Chen, is a co-production between Huayi Brothers, Wanda Media Group and Enlight Pictures and aims at two billion yuan in box office.
Huayi Brothers Media Group was founded in 1994 by Wang Zhongjun and his brother Wang Zhonglei, president of the studio and was behind China's 2013 box office hit "Journey to the West: Conquering the Demons."