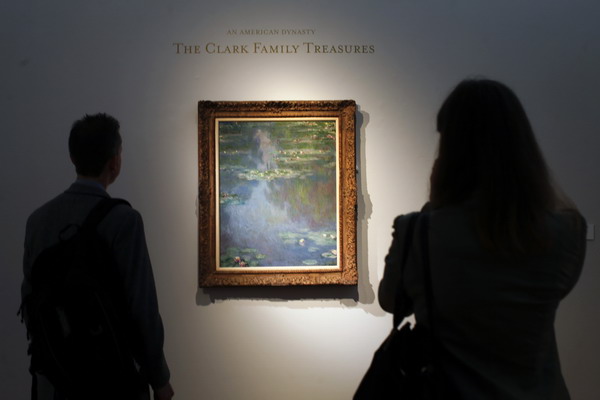 People view one of Claude Monet's "Nympheas", painted in 1907, during a preview of the Impressionist and Modern Art sale at Christie's in New York, May 2, 2014. [Photo/Agencies]
Claude Monet's widely known "Water Lilies" was sold over the phone on May 6 to a Chinese buyer for $24 million, or $27 million with Christie's fees.
According to The Wall Street Journal, the auction house expected the painting to sell for $25 million, without commission being added, in part because it came from the artist's best-known series and it had also been in private hands for the past 80 years.
After the sale, Christie's specialist Brooke Lampley told The Wall Street Journal that collectors prefer horizontal Monets to vertical ones, maybe because the wider ones hang more easily behind sofas. The "Water Lilies" painting is vertical.
On Tuesday at Christie's Rockefeller Center sale room, despite the thin bidding for its priciest works, the auction house still managed to sell 89% of its offerings overall. The house sold $285.9 million worth of Impressionist and modern art.
Christie's bidders from China and Japan remained a strong presence on Tuesday, buying works by Pierre-Auguste Renoir, Wassily Kandinsky, Marc Chagall and Camille Pissarro. Collectors from Israel also won pieces by Picasso and Chagall.
Related:
Monet's 'Water Lilies' auctioned in NY for $27M
Monet, other art from big collectors lead auctions