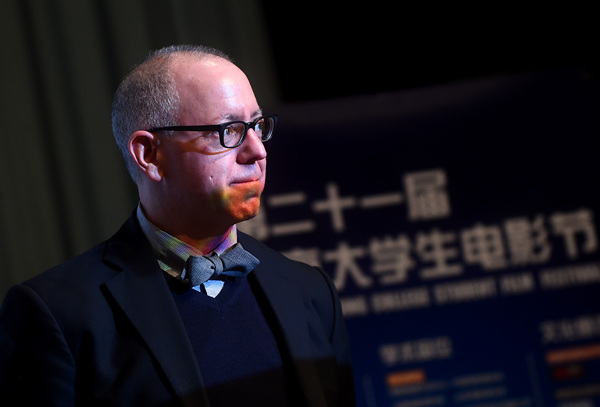 James Schamus is a longtime work partner of Ang Lee's. Photo provided to China Daily
"The first time Ang Lee pitched his story to me was the most boring, miserable and long-winded 45 minutes in my life," says James Schamus, senior producer, former CEO of Focus Features and a longtime work partner of Ang Lee's.
"But when he left, I told my partner, although it was a very painful experience just now, the man was actually not pitching his story. He has shot a complete film in his brain. He is a director."
Their first collaboration was Pushing Hands, Lee's first feature film. Over the next 20 years, they worked together on many more films, including Brokeback Mountain; Lust, Caution; Life of Pi and Crouching Tiger, Hidden Dragon.
In early May, when Schamus gave a speech at the 21st Beijing College Student Film Festival, the most common question was: How do you make a Chinese story appeal to the world?
The 55-year-old producer was confused by the Chinese obsession about how to reach an international market.
"Why is this question even interesting, if you have here in China the fastest growing film market? In five years your box office will be larger than that of the United States. Why should you care what we think?"
A fact that Chinese filmmakers need to bear in mind, he adds, is that on average foreign films made up only 2 percent of the annual US box office over the past two decades.
"Occasionally when there were films like Crouching Tiger, Hidden Dragon, it moves to 3 percent. And then all the Americans get lazy again and stop reading subtitles, and it goes back down to 2 percent."
Schamus says a film doesn't have to be artsy in order to appeal to moviegoers in the US.
"Of the top 10 foreign-language films in the history of America, four are Chinese," he says. "Forty percent of the top 10 are Chinese, not because of a lot of well-educated, wealthy, sophisticated white people, but the young black people who love kung fu movies. They are perfectly fine reading subtitles. So we have all these prejudices and stereotypes, but the reality is totally different."
It's not always easy to reach an international audience. Schamus worked as producer on Lee's emotional drama Lust, Caution, which was set in 1930s Shanghai. It was a commercial success in China, but in the US it was seen as an art-house film.