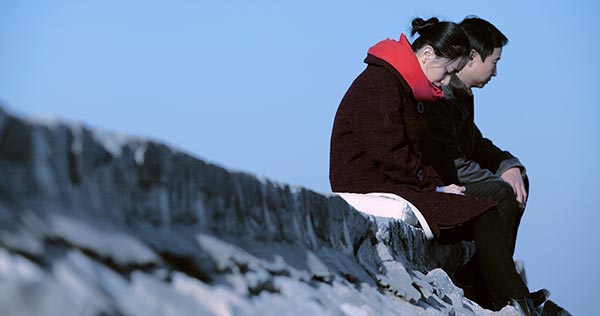 Someone to Talk To, featuring lesser-known actors and actresses, will premiere in China on Nov 11, a day marked in the country as Singles' Day.[Photo provided to China Daily]
The movie is set in Liu's hometown, Yanjin county in Henan province, and it centers on a pair of siblings. The brother is upset about being betrayed by his wife, and his sister is eager to get married.
The director, in keeping with her plan to make a film that feels real, demanded cast members experience life in Central China's villages for two months.
And, unlike most domestic films, which rely heavily on stars, the film features lesser-known actors and actresses, including Mao Hai, Li Qian and Liu Bei.
Separately, speaking about China's shortage of quality stories in response to a question, Liu Zhenyun says: "A script is the core of a film ... So, a good scriptwriter would be paid more than an actor, if I had my way."
Asked if a movie would find it difficult to please a commercial market, Liu says he has confidence in the story.
"Some international filmmakers also tell me the movie could straddle the boundary between art-house films and commercial titles after seeing it (during the production process)," says the veteran writer.
He also says the film will be sold to the rest of the world after its mainland release, as the novel's multiple-language versions have proved the story resonates overseas.
The film is being produced by Bill Kong, founder of the Hong Kong-based studio, Edko.
Kong, who is known for distributing Chinese-language movies to overseas markets, has also produced Ang Lee's Crouching Tiger, Hidden Dragon, and Zhang Yimou's Hero and House of Flying Daggers-all among the highest-grossing Chinese films in the picky North American market.
Interestingly, the film will open across the country on Nov 11, a day marked in China as Singles' Day.
And, as the director says: "The movie is a salute for those who are single or divorced."
Related:
Liu Zhenyun's hit novel adapted for the big screen