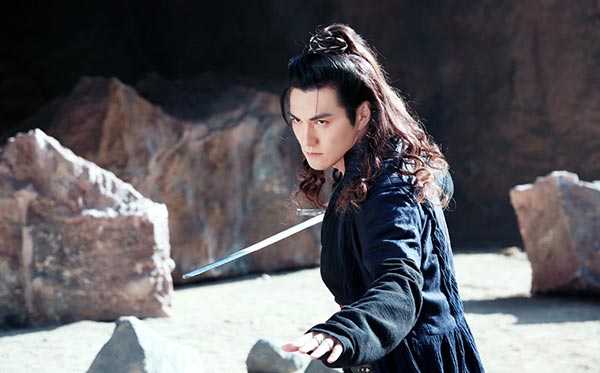 A scene from New Treasure Raiders. [Photo provided to China Daily]
Led up by mainland stars Yan Yikuan, Li Yixiao and Gan Tingting, the TV series
New Treasure Raiders
will air on Feb 9, the second day of Chinese Lunar New Year, on two major satellite channels in Beijing and Guangdong province.
Based on the martial arts novelist Gu Long's namesake novel, the tale can be understood somewhat as a twisted Chinese answer to Tarzan. Xiao Shiyilang, an orphan martial artist raised by wolves, struggles with his sweet-and-bitter romance while involved into a huge conspiracy aiming to steal a precious sword.
Treasure Raiders, or Xiao Shiyilang, was initially written in 1969 under a screenplay request by a Hong Kong film studio. The classic novel has been adapted to movies and TV series multiple times in the past decades.
Hong Kong veteran Guk Gaau-leung, the director of the TV series, says the new show originally wants to commemorate the 30th anniversary of Gu's death in 1985, but failed to air last year.
Yan, the actor starring the protagonist Xiao, says his new version adds some comedic elements.
"Xiao is lonely as he has stayed with animals during the childhood and youth periods, but he always wants to communicate with the humans," Yan says.
"However, the method is a bit weird, which makes humors necessary for the role," he adds.
Related:
Monkey King cartoons through the years