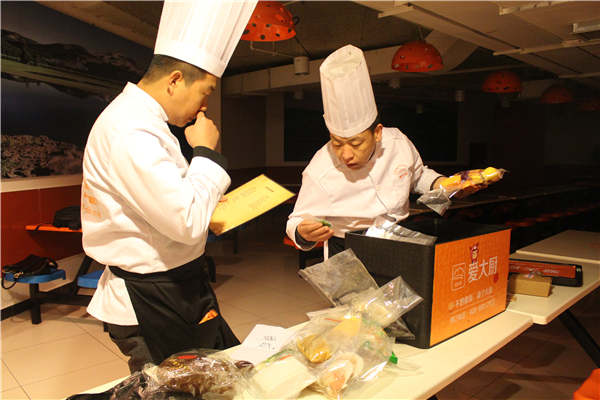 Chefs at Idachu's central kitchen prepare for Chinese New Year holiday dinners. Photos Provided to China Daily
A legion of chefs is on standby to bring relief in the kitchen on Chinese New Year's Eve
For hundreds of millions of mothers all around China, Chinese New Year's Eve is a day that will bring them not only the longed-for nearness of loved ones around the dinner table, but hours of toil in a hot kitchen beforehand that will produce satisfied stomachs and happy faces.
However, in an age of affluence many of these mothers would prefer to forgo the part that involves toil, and, perhaps inevitably, mobile apps are coming to the rescue.
Idachu, a new company in Beijing, is believed to have been among the first to offer a service guaranteed to keep mothers out of the kitchen, replaced by someone who will do all the sweating and at the end of it all produce a New Year's Eve banquet for the family worthy of a cordon bleu chef.
The app was created in late 2012, went online about a year later, and soon became highly popular, particularly in big cities.
The Spring Festival meal service is a natural offshoot of private banquets, which Idachu began to offer last April, says Nie Ming, director of the company's private catering business.
During the Spring Festival holiday last year Idachu chefs prepared 550 banquets, 325 of them in Beijing, says Xue Jiao, the company's founder and chief executive. About 88 of the 550 banquets were prepared by 100 chefs or so for delivery on Chinese New Year's Eve.