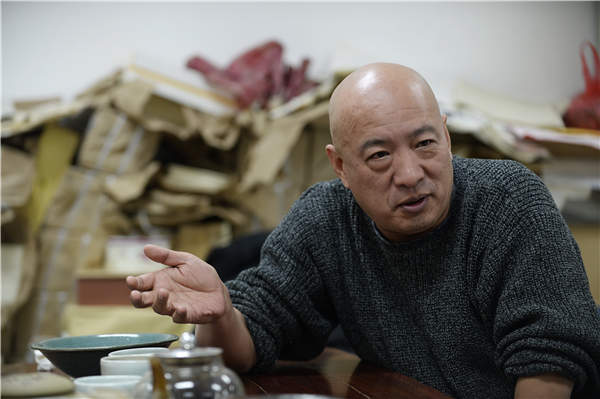 University professor Liu Shuyong (Lao Shu) has become popular for his Chinese-style paintings. [Photo by Wei Xiaohao/China Daily]
You mentioned that, at first, there were voices saying you don't know how to paint?
They were just judging me from their own experience and knowledge. When they put you inside their regime, and you do something that's beyond it, they say you're bad at it. It's the same problem for a man and a woman madly in love, who're zealous about turning "you" into "me".
So I always hate to judge good from bad, instead, I prefer talking about Yes or No. For me, artistic endeavors are creating Yes from No, or we say, from "there isn't" to "there is". But showing off what you consumed at luxurious restaurants or what handbag you are carrying on WeChat? It's talking about "there is" from "there already is".
How about your early education in art?
There was no art education for a village boy who was struggling with finding enough to eat. The only connection was the big sized calligraphy that the old gentlemen in schools ordered us to practice in grades three or four.
A difficult childhood left many traces. I know how to save money and things and got used to that. For example, if I'm drawing on a piece of rare high quality paper, I feel reluctant. And after hours of hard work I finally ruin the precious paper. It's always on a random cigarette box, or delivery box, that I do my best works after a burst of inspiration.
It's said you can produce one painting a day?
If I have things to say, I can't stop. But if not, I choose not to force myself. I have students to teach. So I usually paint a lot on weekends.
What is it in your paintings and verses that hit the softest point of each heart? Why do they touch so many?
I'm true to myself, without any disguises and pretending. I'm true to my everyday anxieties, too. If I feel horrible about going back to work on Sunday night, I express it.
Besides, for my teaching career, I've been on a long path of re-education, during which time I came to understand more about our past and present. Traditional Chinese verses were based on an agrarian culture, but we're using them to describe a busy urban life.
One of my merits is that I have been in vast rural lands for many years. So I kind of can bridge the two clashing cultures. I understand the group of people that curse the big evil cities, but at the same time, refuse to leave and go back to their villages.
Ancient Chinese wisdom is about leading a quiet and simple life. I, as the bridge, convey that wisdom through my poems and paintings. And the message is well received.
How did Mr Long Gown with no facial expressions come into being?
First, he does have facial expressions. I was looking after my father after his operation to treat the gastric cancer in 2007. Though I always slept well earlier, I couldn't sleep for days during that period. So I grabbed a piece of paper, and there he was. I guess then that I was too submerged in studies of Minguo period (1912-49) to clothe him naturally in the outfits of the period.
Later, I found that it was OK and even better if I drew him without eyes, a nose and a mouth.
Related: His art speaks a new language