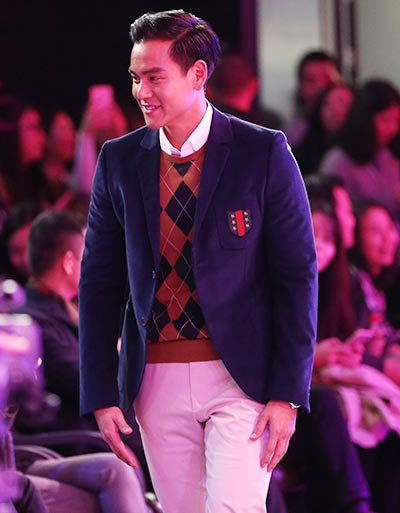 Eddie Peng at a press conference for Run for Love. [Photo by Jiang Dong/China Daily]
Route 66, known as the Mother Road in the United States, has inspired scores of American pop TV series,
movie
s and songs, but it has remained less-known to Chinese. An upcoming romance may raise its recognition in the world's second-largest movie market.
With a stellar cast led by top actress Zhang Ziyi and Chinese-Canadian veteran Eddie Peng, the romantic feature Run for Love will open in mainland theaters on Feb 14, Valentine's Day.
With as many as nine stars, also including award-winning Wang Qianyuan, pop singer Wu Mochou and rising actresses Zhou Dongyu and Tong Liya, the film is made up of five independent tales, respectively directed by Zhang Yibai, Guan Hu, Zhang Meng, Teng Huatao and Gao Qunshu. All five directors are recent favorites to the market with a series of profitable blockbusters behind their names.
The romance segment featuring Wang and Wu highlights scenes alongside the famous Route 66, which also has been presented in the Oscar-winning drama Forrest Gump and the hit song (Get Your Kicks on) Route 66.
Wang says it's his first time to shoot a tale depicting the Chinese' journey in a foreign country and feels most of the scenes along the highway are fresh.
"It's somewhat like a fable. In the journey of every human, people will pass different locations and finally arrive at the ending," he said at a recent event in Beijing.
"But the most significant part is the scenes you've watched and the passengers you've known," Wang says.
In addition to the American tale, movie segments were shot in four other picturesque foreign locations, including Otaru in Japan, the Bosphorus Bridge in Turkey, a remote town in Norway, and Saipan.
Peng, who stars in the Japan tale with Zhang, says his role of a sushi chef brings him a fresh experience of Japan food and culture.
"The locals are very polite, but sometimes it makes you feel they stay some distance from you," Peng recalls.
Related:
Run for Love to be screened on Feb 14