Buying into a new idea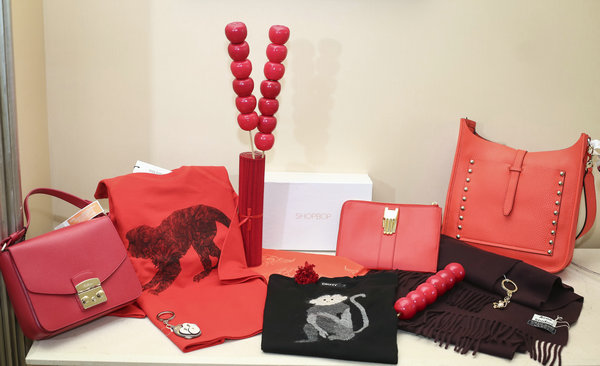 International online retailer Shopbop's CEO Darcy Penick says Asia is becoming increasingly important for her company. The website offers a collection of monkey-themed products to mark the Chinese Lunar New Year.[Photo provided to China Daily]
With attractive prices and a range of products, global online retailers are becoming go-to destinations for young fashionistas.
Song Ci recently bought a 3.1 Phillip Lim bucket bag on Shopbop.com for $950. Although it took 10 days for her to get delivery, she found it worthwhile as it costs about 4,000 yuan ($606) less than what it is sold for in Chinese boutiques.
The Shanghai-based publicist in her 20s has been using the international online retailer since 2014, spending about $4,000 so far. Brands like Theory, Madewell and Alexander Wang are among her choices.
With a price advantage and a wide product range, international online retailers like Shopbop have become go-to destinations for China's young fashionistas like Song.
Positioned in the affordable luxury sector, the company is now among a handful of international online retailers who are looking to capitalize on China's new generation of price-conscious, well-informed fashion consumers.
"We think less about age, but more about mentality-a youthful, effortless, cool approach to fashion," Darcy Penick, CEO of Shopbop, told China Daily on a recent trip to Beijing.
Penick is well-informed about what the 20-somethings want to wear these days. Before joining Shopbop in 2009, Penick worked for Neiman Marcus, Bergdorf Goodman and Saks Fifth Avenue as a senior buyer. For the last two years, she has overseen Shopbop's buying, planning and marketing as a whole.
"It's all converging somewhat. We are seeing a lot of similar patterns in the behavior of customers in their 20s and 30s who engage with us in different countries," she says.
The idea of street style and celebrity influence, and the sensibility to mix products of different prices are universal trends today, she says.