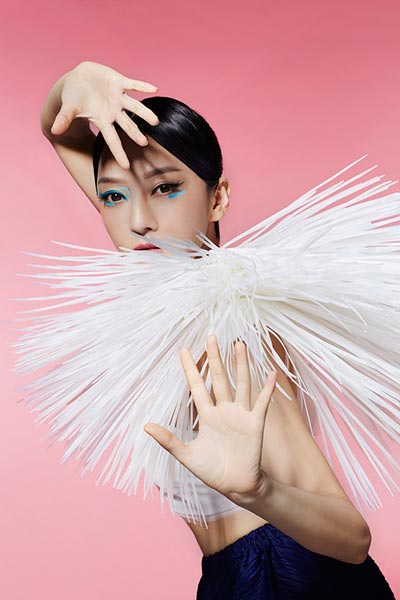 Singer Sa Dingding. [Photo provided to China Daily]
Chinese singer-songwriter Sa Dingding will perform at the upcoming CCTV Spring Festival Gala, one of the most-watched TV shows in the country, which will be broadcast on Feb 7, the eve of Chinese Lunar New Year.
With her Good Luck Song, which was released in December from her latest album, The Butterfly Dream, Sa will combine singing and dancing of the Yi ethnic group from Yunnan province with her electronic-pop tunes in the show.
"I want to display the amazing culture of Chinese ethnic groups, which is rarely seen by these audiences," says Sa.
Born to a Han father and an ethnically Mongolian mother, Sa lived a nomadic lifestyle before the age of 6 in Xilinhot, in North China's Inner Mongolia autonomous region, where she grew up with her grandmother.
"I like mixing different music elements together, and sometimes the chemistry is surprising."
During an October performance at London's Lancaster House last year attended by President Xi Jinping and his wife, Peng Liyuan, Sa shared the stage with the National Youth Choirs of Great Britain and a choir from Xiaoshuijing village, Yunnan province, home to ethnic Miao people and ethnic Yi dancers. She mixed two of her hits, Joy Festival and As the Shadow Follows, with Beethoven's Ode to Joy.
It is not the first time for Sa to perform at the CCTV Spring Festival Gala. In 2012, she performed her hit Alive, which was from her 2007's album with the same title. In the album, the 32-year-old performs in Mandarin, Tibetan, Sanskrit and a self-created language, which won her the BBC Radio 3 Awards for World Music for the Asia-Pacific region, a first for a Chinese pop singer-songwriter.
Related:
'Monkey Kings' call for Monkey King on CCTV Spring Festival Gala