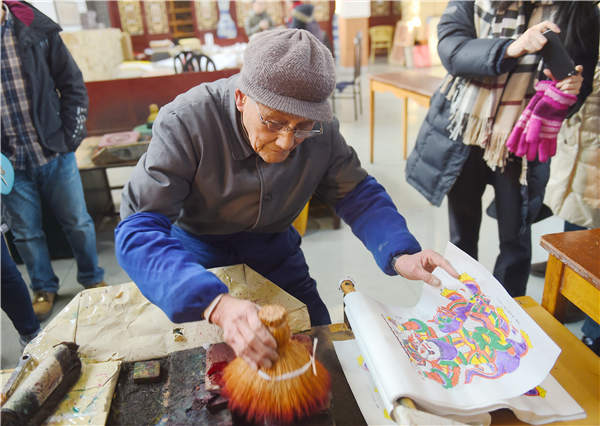 Guo Taiyuan, 91, shows his skill of making woodprint pictures at a museum in Kaifeng, Henan province. Provided To China Daily
Guo Taiyuan has devoted his life to the craft of woodprint pictures.
The inheritor of this centuries-old craft from Kaifeng city in Central China's Henan province is thrilled to see his lifetime passion drawing massive public attention these days.
As the Chinese Lunar New Year approaches, the 91-year-old craftsman says it reminds him of the "good old days".
Putting up woodprint pictures during the Spring Festival, as the Chinese New Year is called, used to be a tradition. The images, with diverse patterns of good connotations, were an essential part of the celebrations in the past.
But with rapid changes in Chinese society in the past few decades, such traditions have been forgotten.
Thanks to an experimental crowdfunding project recently launched on Taobao.com, one of the largest online retail platforms in China, traditional intangible cultural heritage, including the New Year woodprint pictures from Kaifeng, are making a comeback.
The project was jointly launched by Taobao owner, Alibaba, and the official Taobao shop of Beijing's Palace Museum. It aims to meet fund-raising targets. The money will otherwise be returned to the sponsors.
Deducting the costs for designing, manufacturing and shipping, the rest of the funds raised will go to the craftsmen to help protect their works.