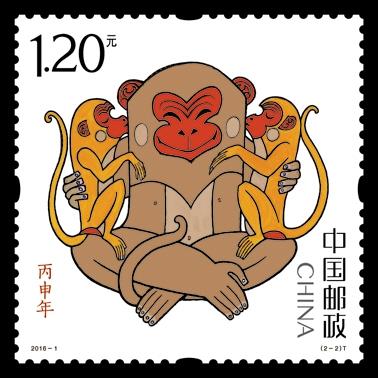 A special Year of the Monkey stamp issued by China Post. [Photo/Beijing Daily]
Amid the brisk festival air for the lunar new year, monkey themed designs are receiving a high fever, from stamps to commemorative coins, even fashion items and handicrafts.
Stamps and commemorative coins popular among collectors
The special Year of the Monkey stamp, designed by artist Huang Yongyu, was issued on Jan 5 in Chinese mainland. As soon as the stamp was released, people lined up to purchase the stamp; some were seen queuing the whole night. The price soared 10 times on the first day, and nearly 30 times after 20 days of release.
Hong Kong and Macau have also put forward monkey themed stamps for the new year. The Macao's stamp design is based on the theme of "Fire Monkey" by presenting the scene in the classic Chinese novel Journey to the West in which the main character Sun Wukong, the Monkey King, puts down the conflagration on the Fire Mountain with a magical fan.
Canada Post released its domestic rate on Jan 11 which depicts a golden figure that is vibrant and alive against a rich red background that provides a stark and striking contrast.
Besides the stamps, commemorative coins also become hot among collectors. The People's Bank of China issued the commemorative coins for the Year of the Monkey on Jan 16 and began taking pre-orders at midnight on Jan 7. By morning, all the coins had been reserved.