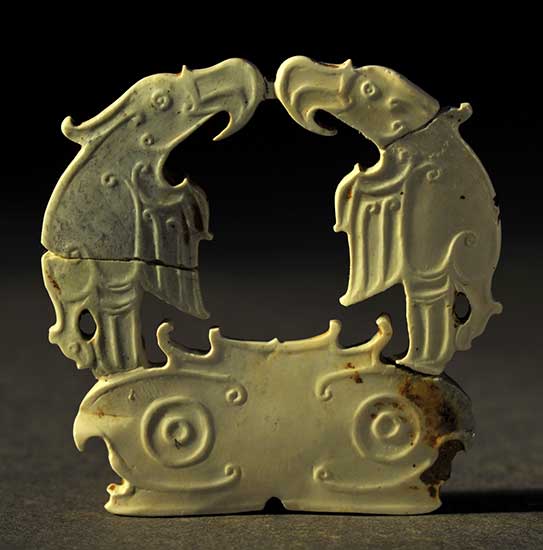 Jadeware, excavated in November from Tianmen county, Hubei province, include (clockwise from top left) a tiger, double-head figurine, two birds, human head and curved cicada.[Photo provided by Shijiahe Relics Archaeological Team of Hubei Provincial Archaeological Research Institution]
No stone evokes China like jade. Lately, 4,000-year-old pieces found in Hubei province are shedding new light on an ancient industry, report Lei Xiaoxun in Beijing, and Zhou Lihua and Liu Kun in Wuhan.
Some of the figurines are human, some are animal. All are believed to be symbols of spirits, perhaps of ancestors. The luminous animals may represent magical, mythic creatures prevalent in the ancient times, when people believed spirits had a supernatural power to communicate between Earth and heaven.
Today the figures, unearthed in November in Central China, are communicating a different story: Leading experts from both the Chinese mainland and Taiwan believe the discovery of a large amount of jadeware at a late Neolithic burial site in November are a missing link, a key to prove that jade culture in the Shang Dynasty (c. 16th century-11th century BC) was profoundly influenced and may have been inherited from the late Neolithic jade culture in the midstream region of the Yangtze River.
Unlike previous Shijiahe jades excavated nearby-which are simple in design and crafting-the pieces found last year, about 240 in total, represent what is likely the highest level of jade art in China or even eastern Asia, according to Fang Qin, director of the Hubei Provincial Archaeological Research Institution.
Fang, also the curator of Hubei Provincial Museum, says the newfound jades are far finer and more delicate than previously discovered.
"For instance, there is only a half-tiger sculpture among the jades we found before," he says, "but there is an intact tiger figurine this time".