The evaluation work of China's First Golden Master Prize kicked off in Karamay, Xinjiang Uygur autonomous region, on Aug 18.
More than 500 jade carvings, jewelries and playthings made by designers and engravers from Beijing, Shanghai, Suzhou, Karamay and other cities entered the primary selection. The final winners will be eligible to enter China's highest jade carving masters conference – the China Jade Carving Flowers Awards.
The Jury was made up of 11 arts and crafts masters who gave out evaluations to the entries in terms of their cultural value and appearance and the maker's originality and carving skills.
"The entries are all made by carving masters," said Li Weihan, vice director of Jade Carving Committee of China National Arts and Crafts Society. Li also said that the materials for carving included nephrite, jadeite and golden silk jade, which was the most popular.
The only master from Karamay to attend the event was Zhu Song, who brought his work Picturesque Landscape to the event. Zhu recommended his masterpiece by saying that it integrated the soft and elegant element of South China with the bold and straightforward spirits of the Xinjiang Uygur autonomous region.
At the conclusion of the evaluation, the entries were available to be viewed by the public, where they were able to get an intimate look at the carving pieces on Aug 19.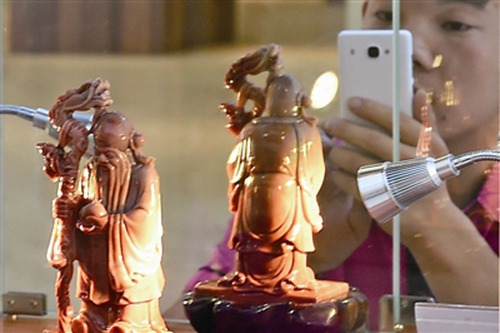 A visitor takes a photo of carving figurine in Karamay city, Xinjiang Uygur autonomous region, on Aug 19. [Photo/ epaper.kelamayi.com.cn]