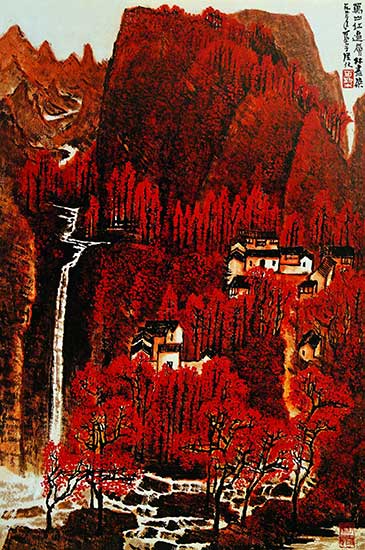 China's art market last year saw some handsome sales, including Li Keran's ink painting Thousands of Hills in a Crimsoned View.[Photo provided to China Daily] 
While the country's art market has seen a decline due to an economic slowdown and the crackdown on graft, the Internet seems to offer a ray of hope, Deng Zhangyu reports.
The domestic art market saw a polarization last year when art dealers experienced a chill from the shrinking market. While small and medium-sized auction houses decreased or stopped doing business, the major ones survived on good earnings with some big-ticket sales.
Meanwhile, online auctions and online art trading seemed to offer a way out.
According to the China Association of Auctioneers, sales by auction houses last year totaled about 30 billion yuan ($4.54 billion), a 2.5 percent drop from the previous year. But the top 10 houses in China, which account for more than half of the market, saw an average decline of 15.3 percent in sales.
It was described as "the worst year since 2011" by leaders of major houses attending Sunday's Chinese Art Market Summit 2015 held by 99ys.com, and it was mostly influenced by China's economy.
"A lukewarm market has been the norm since China's art market hit a peak in 2011. The bad situation will continue this year," says Liu Shangyong, general manager of RomBon Auction, one of the country's first auction houses.
Liu says that the effect of China's crackdown on corruption on the gift-buying market, which accounted for one-third of the sales, was clearly evident. Many painters did not receive any orders last year.
But masterpieces and good-quality antiques are still in demand by big collectors, who are not short of money.
Chinese modern painter Pan Tianshou's ink-and-wash painting Eagle, Rock and Flora fetched a record price of 279 million yuan and Li Keran's painting Thousands of Hills in a Crimsoned View was sold for 184 million yuan at China Guardian last year.