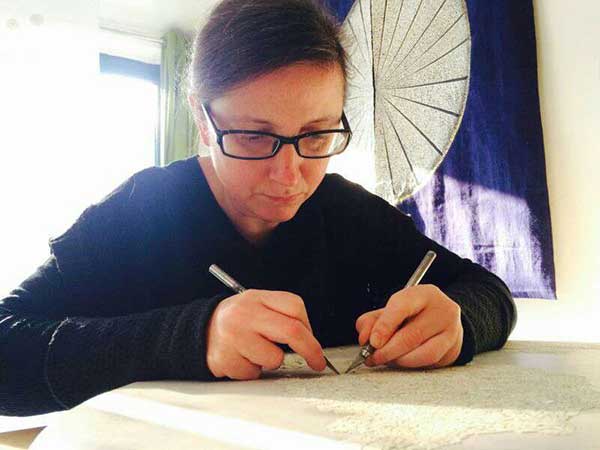 French designer and artist Chassin de Kergommeaux uses eggshells, lacquer and sharkskin for her series of paintings, titled Chinese Geography.[Photo provided to China Daily]
Gwenaelle Chassin de Kergommeaux, a French designer and artist, wanted to create something for China, where she has lived since 2007.
Using her favorite materials-eggshells, lacquer and sharkskin-the 42-year-old, who comes from Paris, made a series of lacquer paintings called Chinese Geography.
The project, which was launched three years ago, is now her passion.
In the first work of the series, she needle-picked and fixed eggshells on a cobalt background to produce a map of China. It resembles a blue and white porcelain pattern.
"Qinghuaci (blue and white) ceramics is a major art in China," she says. "I hope the series can explore Chinese cultural heritage and symbolism."
She later depicted cranes, the Chinese symbol of longevity and wisdom, on her map. A growing round moon is a recurring theme in her work as the celestial body is a heavyweight in Chinese aesthetics, representing longing and other sentiments.
As she witnessed the migration of young Chinese to cities from their countryside homes, she sought a way to show the changes through a pair of paintings.
Her answer: One version of her Chinese map is emptied of the eggshells and the other is filled with them.
"Eggshells are fragments. A mass of them show how people are moving," she says. "It's yin and yang."
Coming from a family of handicraft artisans like goldsmiths and glass-makers, De Kergommeaux fell in love with Asia's lacquer arts when she first saw a collection in Paris' Guimet Museum. She then picked up painting with eggshells.
She has been drawn to China for as long as she can remember.
In her teens, the shape of China in her world atlas and the fairy tales of ancient China moved her.
Chinese lacquer painting, often done with eggshells, seashells and gold-leaf mosaic, dates back thousands of years. And the country is known as the world's biggest producer and user of natural lacquer.