Chinese vessel rescues French sailor
A Chinese-operated cargo ship rescued a 72-year-old solo French sailor after his navigation equipment broke down in the Caribbean and he drifted without food or water.
The MV Winning Joy, an 87,417 ton bulk carrier operated by Qingdao Winning International Management Co, came to the rescue of Bernard Couvet, who was adrift on the yachtSV.Kaflo 19 days after his electronic navigation system broke down.
He had run out of food and water three days before, and, as he no longer had diesel fuel, he could maneuver the boat only by sails. Couvet continued making Mayday calls to get help from passing ships after a tanker failed to help him and left a few days before.
News of the rescue broke when the Winning Joy returned to its home port on Jan 10 in Qingdao of eastern China.
The crew of the Winning Joy heard Couvet's Mayday on Aug 18 and rescued him and brought his yacht in tow in heavy seas and high winds.
Winning Joy Captain Li Fubin, making his first voyage as master of the ship, said he would remember the rescue forever because he was so proud of it.
"Offering timely help to those in danger at sea is our duty and responsibility," he said.
Li said he was cautious at first when he received the weak signal with an intermittent rescue request via VHF radio in an area known to be infested by pirates.
"We radioed the boat immediately and confirmed it was a sailboat in distress. Then we changed course to head to the signal source area and asked the ship company to approve the rescue."
It was 4:40 am when they heard the signal and 5:20 when the company gave to proceed with the rescue.
When they arrived, they spotted an elderly man on a sailboat struggling at sea and began the rescue operation despite the huge waves and strong wind.
Song Zhisong, a sailor on the Winning Joy, said the first rope connecting the vessels broke shortly after it was fixed because it was hard to control the two vessels' relative speeds.
"Then our captain ordered almost the full crew to get involved, and we fired a thicker cable with a special device and successfully connected the vessels," Song said.
The crew pulled them closer together and then threw a rope ladder down to the sailboat.
Gao Jiangqi, chief officer on the Winning Joy, put on a life jacket and climbed down onto the vessel from the 25-meter-high cargo ship.
"The current was pretty strong, and we were all worried about him. If he fell into the water, we might have never seen him again," Song said.
Couvet was exhausted. Gao helped him put on a life jacket and secured the safety belt. He was then pulled up to the Winning Joy by more than 20 crew members.
Couvet related that he is a retired teacher from France, and he was sailing from Saint Martin to visit a friend in Martinique, both French territories in the Caribbean.
He didn't have paper sea charts on board and his electronic navigation system broke down when he neared the Guadeloupe islands. His diesel fuel ran out and the wind was not favorable, so he drifted at sea and eventually ran out of food and water.
He was slightly injured by a signal flare he fired.
Li said the Winning Joy medical staff treated him and fed him plain porridge, as it was easy to digest and Couvet had not eaten for three days. The cook also prepared Western food for Couvet.
xiechuanjiao@chinadaily.com.cn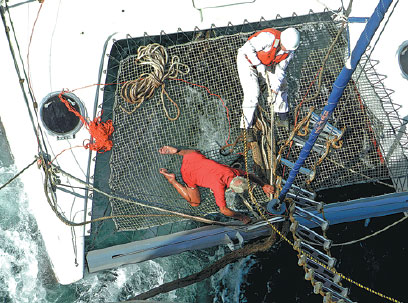 Bernard Couvet, 72, a solo French sailor, is rescued by a Chinese-operated cargo ship 19 days after the electronic navigation systems broke down, on Aug 18. Provided to China Daily