Glenn Frey, founding member of the Eagles, dead at 67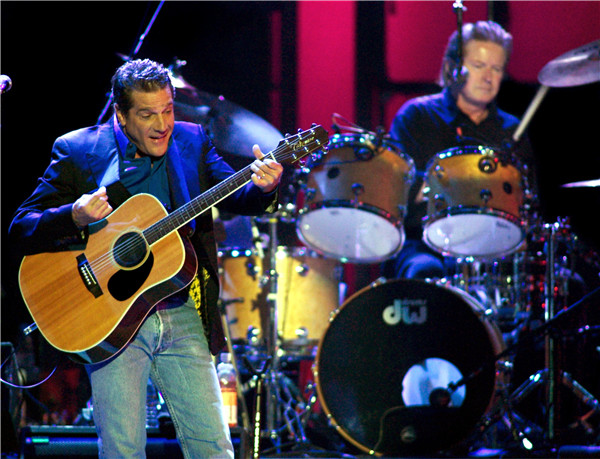 Singer/guitarist Glenn Frey of the Eagles, with singer/drummer Don Henley in the background, performs the song "New Kid In Town" during a sold-out show on the band's "Farewell I" tour at the MGM Grand Garden Arena in Las Vegas, Nevada in this August 9, 2003 file photo. [Photo/Agencies]
LOS ANGELES - Guitarist Glenn Frey, a founding member of Southern California rock band the Eagles who co-wrote many of their seminal 1970s hits, died on Monday at age 67, the band said on its website.
Frey died in New York City of complications from rheumatoid arthritis, acute ulcerative colitis and pneumonia, the band said.
The Detroit-born Frey and drummer and singer Don Henley co-founded the Eagles in 1971 in Los Angeles after playing as a backup band for rock singer Linda Ronstadt.
The group blended rock with country music influences to become one of the most popular bands of the 1970s, with hit songs such as "Hotel California," "Peaceful Easy Feeling," "Already Gone" and "Take It Easy." The band broke up in 1980.
Frey wrote or co-wrote with Henley many of the group's songs.
"He was like a brother to me; we were family, and like most families, there was some dysfunction," Henley said in a statement. "But, the bond we forged 45 years ago was never broken, even during the 14 years that the Eagles were dissolved."
After the Eagles disbanded, Frey had a successful solo career, recording the songs "The One You Love," "Smuggler's Blues" and "The Heat Is On."
Then, in 1994 the Eagles reunited and released an album titled "Hell Freezes Over." The name jokingly referred to Henley's previous statement that the band would only get back together when "hell freezes over."
The Eagles were inducted into the Rock and Roll Hall of Fame in 1998.
"I'm not sure I believe in fate, but I know that crossing paths with Glenn Lewis Frey in 1970 changed my life forever, and it eventually had an impact on the lives of millions of other people all over the planet," Henley said.